Eren Yardim, a BBVA office manager in Balikesir, Turkey, believes that the motivation to achieve success comes from within. The key is to think big and not be afraid of change.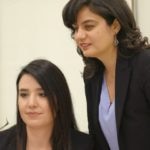 Eren joined BBVA Turkey in 2002. She had a heart operation in 2016, followed by 10 months of rehabilitation. This long recovery was possible thanks to her family and her bank, which did everything possible to help her. "That experience taught me something really important: it was me who had the power to earn respect and love," says Eren. During one of the most difficult times of her life, Eren decided to change some things to achieve success.
"Change and transformation are positive. If BBVA changes, I'll change quickly, too"
Transformation journey
Her transformation journey began by moving to another city. Mother of a daughter and a son, she made this decision to fulfill her dream of becoming the first woman to manage a branch in the city of Balıkesir (Turkey), while impressing her classmates with her motivation, energy, and desire to learn. "I think BBVA Turkey is the company that supports women the most," she says. On the bank's 70th anniversary, employees were asked about their wishes, and Eren said she wanted to learn Spanish—and her wish came true. Learning Spanish was a challenge, but now she is able to express herself in a new language.
A role model
Eren has shown her teammates that dreams can come true if you think big and fight for them. "She has become one of my idols," says Huriye Coşgun, a colleague at the bank. Not only has she become a role model for her coworkers, she is an idol for her daughter, Cerey. "It has shown me that if a woman really wants to, she can change anything," she says. Her customers also very fond of her.