Michelle Lok works as a Social Media Specialist at BBVA United States. She puts the same strength and determination into her training that she brings to bear at work every day. This BBVA Ambassador thinks big 24/7.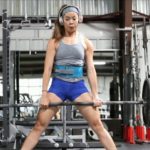 "People tell me I'm too little or frail to do what I do," she says. That's because Michelle, a social media specialist for BBVA Compass, is a powerlifter. "But I like the power. Power just makes me feel good. It makes me confident in who I am."
A regular gym-goer, Michelle lifted weights the standard way for a while but eventually found that it felt "mediocre" and not fulfilling. "I wanted to challenge myself more," Michelle says, "so I thought, why not get into powerlifting and actually compete?"
That desire to compete led her to a local trainer named Russel Orhii, a world-renowned powerlifter who helped Michelle step up her game while also providing a support system for her development. "I have her trust," Orhii says, "so I just have to give her a plan, and she'll follow through with it."
Michelle brings that same level of commitment and trust to her work for BBVA Compass, acting as the face of the bank across multiple social media platforms and engaging with consumer and customers across the country. Working with partners in Marketing and other departments, she crafts messages designed to help people learn more about how the bank can help them in their own journeys.
"Michelle always gives us a better idea," says Diddy Saini, a marketing specialist with BBVA Compass. "It's about how we can make the experience better for the customer, but also how we can make our social engagement better, too."
"I want to touch someone's life"
"BBVA Compass is all hands on deck," Michelle says. "You have to think big in order to be here, because we have to be creative."  That creativity also shows up in Michelle's personal life: she has her own YouTube channel, where she posts video updates about her powerlifting experiences, as well as her travels and time with friends.
No matter what she's doing, though, Michelle says she's driven by a desire to connect. "At BBVA, we do a lot in the community that people don't actually expect," she says. "I want to create an impact in someone's life. I want to touch someone's life."