Many people might be OK with coming in second, but not the BBVA women's basketball team in Spain. Last year, they lost the tournament final. This year, victory was the only option.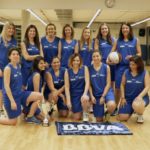 They won every game in the Business League tournament this year. But they're still hungry. "We would like next season to be more challenging, and we would like to see more teams. There are many very good teams, but it's a shame that there are so few in the women's league." They pointed out by comparing it to the more than 40 companies that participate in the men's league.
The BBVA women's basketball team was formed two years ago in Asset Management. They came in second that year. "We were highly motivated because the team we bested in the final was the one that beat us last year," says Paloma de Vicente. "That was our goal this season, and we did it."
Nearly quit
Their championship victory is even sweeter given that only seven were able to keep playing this year.
"That's a small roster for very tough season, because people get sick and have commitments, so you can't always play all the games," explains captain Valeria Toso.
"Same values, same ambition, same spirit of self-improvement
However, instead of throwing in the towel, she found a solution: "I announced we were looking for players, and a bunch of coworkers signed up."
Valeria had already participated in the Business League when she was at BBVA Continental in Peru. "I started playing soccer. Even there, the bank won the intercompany tournament ten times," she says.
She moved to Spain to get her MBA and wound up staying. Although she misses her family and prefers her country's cooking to Spain's, she doesn't see any major differences between the bank's outposts. "People have the same values, the same ambition, the same spirit of self-improvement," she says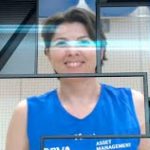 "Same values, same ambition, same spirit of self-improvement"
Ambition for part of their DNA
That ambition is the key to their victories. Especially when things get tough, when you have to find time to practice after work. "You have to make a huge effort, but at least you feel a sense of accomplishment," she says
Valeria added, "We share the drive to get better every day, to achieve new goals, and we're also generous. This is reflected in our work at the bank, in the constant pursuit of excellence and the effort we make to achieve our objectives. You can see that if you give, you receive; and if you give and everyone gives, the whole team wins."
"We are our harshest critics. At work, in our personal lives and when playing sports
Pilar Balda won the MVP award. She jokes that she would like to win the WNBA Championship. "Or better, the world basketball championship with the national squad," she quickly adds.
She believes success is achieved through a solid work ethic. "We are our harshest critics. At work, in our personal lives, and when playing sports."
On top of winning the championship, what the team values most is the opportunity to meet other people—not only from other companies, but also from BBVA.
"Being on the team has given me the opportunity to meet a ton of people," says Pilar. "Sometimes that is difficult, because your job doesn't allow you to interact with your co-workers from other departments.
"The team is already thinking about next season, the obstacles they will have to overcome, and the tough practice sessions after work. But they're convinced they will be victorious again. With passion like this, it's hard to doubt it.