BBVA and Compromiso Integra join forces to support labor market inclusion
BBVA has made further progress in driving the employability and labor integration of those experiencing social exclusion, via a corporate volunteering initiative. The bank has signed a partnership agreement with Compromiso Integra, a network of companies and entities committed to supporting socially responsible employment that is run by Integra Foundation.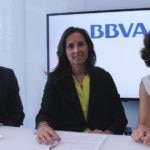 Under the agreement BBVA staff will act as voluntary training providers at the Integra Capacity Building School. They will teach at the school, providing a full program of pre-employment training and personal development courses. The students, all from vulnerable groups, will have the opportunity to learn new skills and acquire tools to help them find gainful employment. This represents a real opportunity for the students, all of whom face difficult circumstances, whether they be of a financial, personal or psychological nature, allowing them to improve their social and professional skills, while readying them to succeed in a job search.
BBVA will endeavor to help the students to secure positions on the staff and with the work teams of its suppliers, in the aim of driving normalization of their lives. "Helping to provide those most in need with a second chance at securing labor integration is an exciting project and one that merits the support and commitment of each and every one of us", says, Pedro Mendez, Director of People and Values BBVA Spain, who signed the partnership agreement with Ana Muñoz de Dios, Managing Director of Integra Foundation.
BBVA employees have so much to offer those taking part in the program. "The valuable BBVA volunteers will help our students not only to acquire new and practical knowledge, but also to drive their self-confidence and give them the motivation the need to successfully find a job". However, it will also be a learning experience for the BBVA employees, who will "discover the reality of exclusion, develop their own talents and empathy, while generating a sense of pride of belonging to their own company, which has demonstrated such commitment to vulnerable groups", says Muñoz.
BBVA and Integra Foundation have been partners since 2013. Over the years, 26 employees have been involved in the foundation's various programs. This number is set to grow under the agreement, with more and more employees at the bank getting involved in such initiatives.