A signature sound is much more than a song. It should tell a story that identifies it with the company's values. That's 'How We Dream' for BBVA – the sound track of opportunities - and Maico, the group that is the voice and soul of these opportunities.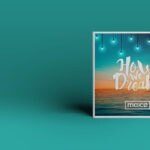 Miguel, Nito, Joan, Emilio and Ángel are the members of Maico, the group in charge of performing 'How We Dream'.   These five men from Mallorca are united by their passion for music and efforts and hard work to achieve their dream. And what's better than a song that talks about dreams and the opportunities to make them come true. BBVA saw a young band of up-beat, fighters in Maico with the desire to grow and transform opportunities in dreams, and with the potential and maturity to secure the path they have started to build.
The change of signature sound is a clear sign of the transformation the Group is going through
BBVA started with 'Adelante' , a very well-known signature sound, but it no longer represented the change that has taken place in the Group. According to Carlos Pérez Beruete, global head of Branding at BBVA: "the change of signature sound is a clear sign of the transformation the Group is going through. Music allows us to express emotions and communicate things that we could not achieve otherwise." With 'How We Dream' , BBVA reflects its transformation to bring the age of opportunity to everyone.
With great raw material, the final element was missing to give "soul" and meaning to BBVA's purpose: creating opportunities. Searching for that final element, BBVA found Maico, the missing piece to complete the puzzle of BBVA's signature sound.
Maico's sound - pop, with a splash of soul, rock and techno - together with the harmony of Miguel as lead vocalist, make the perfect sound track for BBVA's new direction. And since Maico is at a point of artistic growth and development, what's better than this song also being an opportunity for them.
Now your can listen How we dream in your favourite online platform: