BBVA breaks another record in attracting new customers through digital channels
Nearly 2.5 million people chose digital channels to become BBVA customers in 2020. The figure represents 33.3 percent of total new customers achieved throughout the Group via individual channels (offices, app, web, ATMs ...) and represents a 56 percent jump with respect to new users gained digitally in 2019.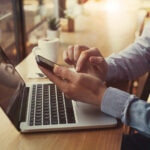 Despite the crisis generated by the COVID-19 pandemic, BBVA achieved a record number of new customer growth in 2020. The bank added a total of 7.3 million new customers worldwide, of which 2.4 million became BBVA customers through the app or the web. This figure represents a 56 percent jump compared to 2019, consolidating digital capabilities as an increasingly relevant element to boost BBVA's business.
"Customer growth is one of BBVA's strategic priorities and these figures validate the Group's efforts to create global programs to develop new digital functionalities aimed at contracting financial products and services," said David Puente, BBVA global head of Client Solutions.
Currently, the bank attracts more digital customers in a single day than it did in a full quarter in 2015. The confinement in various countries has undoubtedly had an accelerating effect on customer digitization in BBVA's footprint.
But without a doubt, these results would not have been possible without the efforts made by BBVA in recent years to improve commercial capabilities in its digital channels. For example, all BBVA countries have at least two of the main products (accounts, credit cards, loans or installment payments for online purchases) available digitally. Additionally, the Group has optimized biometric systems for the identification of users or documents.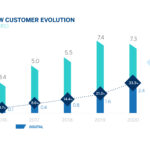 "We have worked with all areas of the bank, from Risk to Engineering to Legal Services, to create a customer experience that facilitates the conversion of non-customer users to customers in the simplest and most frictionless way. We have also been able to reuse software and share lessons learned from one country to another, which has allowed us to be faster and more efficient when it comes to attracting new customers in digital environments around the world," says Carlos Roldán, head of BBVA's Open Market.
Third-party alliances
Although BBVA is going to continue with its commitment to expansion through new client acquisitions via digital channels, which are essential to maintaining and increasing this growth rate, these will not be the only ones. In addition, BBVA is making a great commitment to its integration into third-party platforms or channels to reach new users.
Both initiatives will be a part of BBVA's strategic axes this year. To achieve these goals, BBVA is preparing to have greater digital product availability (in Spain, virtually everything can already be contracted online), while improving its product acquisition processes, the registration system and streamlining credit approval models. BBVA will also focus closely on enhancing customer loyalty with more proactive systems that encourage greater use of all the app's functionalities.
As to its integration into other platforms, BBVA looks to third-party agreements as a great opportunity to continue driving organic client growth. Their plans include continuing to promote alliances, such as Uber in Mexico, Xiaomi in Spain and Telefónica in Colombia.