Carlos Torres Vila: "We see our partnerships with big digital companies as a way of growing our customer base"
BBVA is partnering with technology companies to be closer to its clients, who are starting to turn to third party digital vendors to cover their financial needs. "We see these partnerships as a way of growing our customer base," stated Carlos Torres Vila, Group Executive Chairman of BBVA, speaking at a virtual panel discussion with Marcelo Claure, CEO of Softbank, that took place on the last day of South Summit.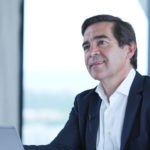 During their talk, Torres Vila said the latest BBVA partnerships with digital giants like Uber in Mexico, which he described as "quite successful in bringing also hundreds of thousands of customers onto our bank in Mexico," or the agreement signed with Google, as part of a select group banks, in the United States to start offering digital bank accounts through its Google Pay payment system. "We have other discussions ongoing with other Big Techs," stated the BBVA Chairman.
In his opinion, customers, who used to walk into branches to buy financial products, today are turning more and more to digital channels to cover their financial needs. "60% of our clients are digital. So a lot of the new flow comes from our own digital channels. Now the movement is going to a third party digital channels," pointed out Torres Vila as the main reason for the implementation of these partnerships with large digital companies. "We're just partnering there so that we can do a win-win. We can provide the product and we can partner with big brands that also have the cloud, the Marketing Cloud, the customer base to bring in new business for us. So we see it as a way of growing," assured Torres Vila.
The BBVA Chairman also explained that competition from fintechs and big tech will leave many incumbents out of the market. "I think we are one of the few, one of a kind, that I think are doing the right things to be part of the landscape going forward as well," he added. In this sense, the CEO of Softbank declared himself "a huge admirer of BBVA." "I love what you guys are doing," he said.
Besides BBVA's digital strategy, both executives discussed how the global health crisis has society companies to rethink their traditional work model and expedited the digitization process in many fields, while posing new hurdles to progress in the fight against racism or the promotion of diversity.
Carlos Torres Vila agreed with Marcelo Claure in underscoring that the pandemic has caused a massive shift to digital of which many will never step down. "Our day to day has changed dramatically. We were able to anticipate the crisis by sending part of our people home and really prioritizing health over anything else. And thanks to our digital capability, we've been able to serve our customers and continue to be there for them with a very small proportion of our people really having to go to the branches to open them up," recounted BBVA's chairman. He also added that the use of the bank's banking app has grown by up to 30 percent globally, compared to the months prior to the Covid outbreak. "Technology has come to the rescue in terms of providing the service," he stressed.
A significant portion of the bank's staff is still working remotely with the possibility of coming to the office to work a few days a week, in a hybrid model that aims to combine the best of both worlds, supporting a better work-life balance, while maintaining the human contact and team dynamics.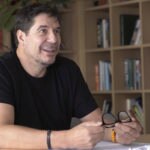 Marcelo Claure Softbank's CEO, during his conversation at South Summit with Carlos Torres Vila, Group Executive Chairman of BBVA.
Despite sharing their insights into the positive sides of the unfolding crisis, both managers voiced their deepest concerns for the dramatic toll of the pandemic on a human level, and spoke about the solidarity initiatives that their respective organizations are rolling out. Torres Vila recalled the more than $50 million dollars that BBVA has donated, including the funds contributed by employees and clients. All this money was used to purchase medical equipment, to support the most vulnerable population, especially in Latin America, and to promote some research projects to fight against Covid-19.
Torres Vila pointed out that the pandemic offers an opportunity for the world to rethink how to take on some of the great social challenges it faces. "One of these aspects is precisely that of discrimination and inclusion," referring to financial inclusion, gender, race, he pointed out.
In this sense, the president of BBVA highlighted the actions implemented by the BBVA Microfinance Foundation, a global leader in development finance, as recognized by the OECD, second only to the Bill and Melinda Gates Foundation. A project that he said he is "super proud" about.