Spain was the first stop in the tour BBVA's new CEO is taking across the different markets where the Group operates.
Onur Genç met with those in charge of BBVA Spain, as well as the different multidisciplinary teams working on the development of next-generation digital products and services. "I was able to see first hand the commitment and dedication of the entire BBVA team in Spain. They are pioneers in many of the projects the Group launches," he said.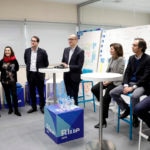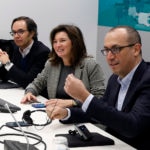 From left to right, Jorge Saenz-Azcúnaga, head of Country Monitoring BBVA; Cristina de Parias, head of BBVA Spain; and BBVA CEO Onur Genç.