BBVA has joined RE100, a collaborative, global initiative uniting the world's most influential businesses committed to sourcing 100% of their power consumption from renewable sources before 2050. In doing so, businesses convey a powerful message to policymakers and investors: We need to expedite the transition towards a zero-emissions economy.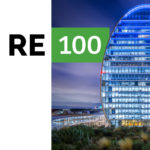 Within the framework of its 2025 Pledge, the bank has committed to manage environmental and social resources, minimize the potentially negative direct and indirect impact of its activity, and to source 70% of the BBVA Group's power consumption from renewable sources by 2025, and 100% by 2030.
Constant Alarcon, RE100 Campaign Manager, The Climate Group, declared: "I'm very pleased to welcome BBVA to RE100. Financial institutions are essential forces in accelerating the clean energy transition and by joining RE100, BBVA is sending a powerful signal that businesses want renewable energy in Spain, Latin America, and across the globe. With this leadership, BBVA will inspire its peers and customers to take ambitious actions that clean up energy systems and future-proof the global economy."
BBVA commits to sourcing 100% renewable power by 2030
Since 2015, in Spain 100% of BBVA's electricity is renewable, certified by means of Guarantees of Origin. This is one of the measures included in the Global Eco-efficiency Plan 2016-2020, which established a 48% renewable threshold for the Group's electricity consumption.
Also in Paraguay, where almost 100% of its electricity comes from renewable sources, this milestone is also a reality.
BBVA Bancomer in México is also working toward meeting this target. The institution signed a 15-year PPA (Power Purchase Agreement) with Enel Green Power México, Enel Group's Mexican subsidiary, to ensure the supply of 100% of BBVA Bancomer's total electricity needs – including corporate buildings and branch network - from a wind farm developed exclusively for such purpose.
RE100, an initiative led by The Climate Group in partnership with CDP
The Climate Group and CDP have worked jointly to roll out the RE100, an initiative that has managed to bring together some of the world's most influential businesses, including some included in the Global Fortune 500, operating across a broad range of industries, from IT and financial services, to the pharma and automobile sectors.
To join the RE100, companies must meet a series of requirements, including the following:
Companies must be considered 'influential', i.e. be a globally or nationally recognized and trusted brand, a major multinational company, have a significant power footprint, or have other characteristics conveying clear international or regional influence that is of benefit to RE100's aims.
All companies joining the campaign must be willing to make a public commitment to sourcing 100% renewable electricity throughout their entire operations and must have: obtained 100% of their electricity from renewable sources, or, have a clear strategy with timetable to reach 100% or, have committed to developing a clear roadmap for going 100% renewable within 12 months of joining the initiative.
All corporate members must have a renewable power strategy that includes credible deadlines for achieving 100% RE. It is an essential requirement to reach that goal in 2050, with intermediate steps of at least 30% in 2020; 60% in 2030; and 90% in 2040.
Companies are required to report annually on their renewable energy strategy and progress, and specifically, at least on total electricity consumption and total renewable electricity use.