BBVA Compass reopens final remaining branch temporarily closed after Hurricane Harvey
Almost nine months after the devastating and historic Hurricane Harvey came through the Texas Gulf Coast, BBVA Compass is reopening the last of its temporarily closed branches with a new design, location and state-of-the-art features.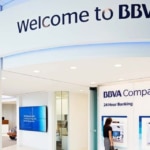 The branch, located at 3545 Gulf Fwy in Dickinson, Texas, was one of nine BBVA Compass branches to close due to damage from the hurricane. The branch features a new design model now being employed by the bank, based on modular and flexible design.
(This design) really plays into our agile way of doing business.
"We designed this branch based on flexibility to better serve our clients," said BBVA Compass Regional Corporate Real Estate Director Andres Cueto. "For example, the concept lends itself to where all furniture and areas can easily be moved and transformed with little effort based on the needs of the client. For example, a lobby desk can easily be turned into a room with a conference desk within minutes, which really plays into our agile way of doing business."
The original  branch was gutted and redesigned with the new features due to extensive flooding that took days to recede. Before the new branch opening, employees continued operations in a temporary mobile trailer.
Other new branch features include collaboration areas, WiFi and modern furniture - all features employed at corporate headquarters and select buildings across the bank's footprint.
In addition to restoring its business operation in the aftermath of Hurricane Harvey in August, BBVA Compass and its foundation sprung into action, donating $250,000 to the American Red Cross and the Hurricane Harvey Relief Fund to aid disaster recovery efforts in Texas. The funds were designed to assist rebuilding efforts in the 54 counties that were on the Governor's State Disaster Declaration.