BBVA and the Generalitat – the Regional Government of Catalonia – sign social project envisaging transfer of over 1,800 housing in Catalonia
BBVA Group and the Regional Government of Catalonia signed a deal to roll out a social housing project. Within the framework of the agreement, the institution will temporarily transfer tenancy rights over 1,800 housing units to the Generalitat.  The 8-year agreement also sets out a social inclusion plan to improve the personal prospects of the beneficiaries. With this social agreement, BBVA's social housing portfolio now stands at 7,000 units in Spain.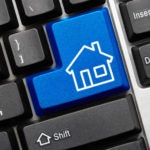 The agreement is testament of BBVA's commitment to Catalonian society, and is part of the institution's Responsible Business action plan, and comes on top of a number of initiatives that BBVA has already implemented since the beginning of the crisis, within the framework of its social housing policy.
Cristina de Parias, Head of BBVA Spain, underscored that "BBVA set out its social housing policy some years ago, aimed at guaranteeing a solution for our customers in vulnerable situations. But now we want to go one step further. With this agreement, we're also getting involved in the challenge of our society, providing access to housing to families at risk of exclusion, regardless of whether they are BBVA customers or not. Many families are going to be able to benefit from this agreement."
In this regard, she added that "the agreement is an example of an integral and ambitious response. On the one hand, BBVA will contribute with a number of housing units, while, on the other, the Generalitat will promote a social accompaniment plan, that will guarantee, not only that the most vulnerable families will always have a roof over their head, but that they will also enjoy minimum social integration conditions."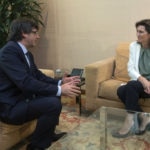 Cristina de Parias and Carles Puigdemont have signed this morning the agreement for the transfer of housing
The Generalitat will be responsible for the beneficiary assessment, selection and management processes, and for verifying they meet the requirements established by the Catalonian administration. Also, the Generalitat agreed to develop a social accompaniment plan to oversee that the personal and family conditions of the beneficiaries improve during the validity period of the transfer agreement. With this agreement, the Generalitat will complement the efforts that many town councils in Catalonia are already making to support the most vulnerable groups of society, through the social services area.
The agreement will remain in force for eight years and will be rolled out sequentially, with properties being awarded every six months. The maximum duration of the home lease contracts will be five years, and the price, which will be set and collected by the Generalitat taking each family's economic standing into account, will range between €150 and €300.
The agreement also envisages the creation of an technical committee to follow up on the agreement, consisting of representatives of the Generalitat and BBVA Group. In addition, a forum of experts will be assembled, and will meet every six months with external agents and stakeholders to debate on the evolution of the social housing segment in Catalonia.
The houses comprising the first batch of homes is scattered across Catalonia's largest cities: Badalona, Barcelona, Girona, Granollers, Hospitalet de Llobregat, Lleida, Mataró, Reus, Sabadell, Santa Coloma de Gramenet, Tarragona, and Terrassa. Also, the Generalitat will address emergency housing needs in other cities.
BBVA's Social Housing Policy
Since the beginning of the economic crisis, BBVA voluntarily decided to establish additional measures to those adopted by the sector to mitigate its impact. These measures were structured along several lines of action: offering solutions to all families which were having trouble meeting their mortgage payment obligations; ensuring that families at risk of exclusion holding a mortgage with BBVA always have a roof over their heads; and promoting employment through occupational integration and economic support programs.
Prior to the signing of this agreement, BBVA Group's affordable rental portfolio for vulnerable families already consisted of 5,000 units, including contributions to the Social Housing Fund and social leases facilitated to customers in vulnerable conditions. Over half of these units are located in Catalonia.
BBVA considers that a proactive approach to arrive at consensus solutions with customers is essential and is helping many people meet their obligations without being evicted from their properties. Since the onset of the crisis, BBVA has refinanced over 67,000 families, 21,000 in Catalonia, adjusting the fees to their current payment capabilities.
BBVA has rolled out a number of initiatives which currently make up its social housing policy, including the creation, in January 2013, of the Mortgage Debtor Protection Committee (CPDH). This Committee analyzes all cases involving a non-performing bank customer and which may be at risk of an exclusion situation not covered by law. Through this Committee, BBVA guarantees a solution to all customers at risk of exclusion.
Also, in March 2013, BBVA signed an agreement with the Adecco Foundation to help BBVA customer families that were having trouble meeting their mortgage payment obligations. The program included counseling, training and support to customers in their job-hunting processes, as well as economic aides of up to €400 per month during two years. 55% of the people that signed up to this plan found a job.
Also, since the beginning of the crisis, BBVA has signed over 14,200 repossession agreements with customers which have allowed them to access other support programs, such as affordable housing leases or employment plans through Adecco.