BBVA expands its framework for sustainable transactional products
BBVA reaffirms its commitment to the fight against climate change and responsible banking with the expansion of its framework for sustainable transactional products, which was published at the beginning of the year. With it, the bank seeks to make different sustainable financial solutions available to a greater number of clients.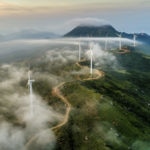 Since its publication, the framework has made it possible to classify as social, green or sustainable transactions whose funding is allocated to projects directly connected to the UN Sustainable Development Goals. By expanding the framework, which received a favorable opinion from the rating agency Vigeo Eiris, BBVA will support those clients and sectors that despite not having projects directly linked to the SDGs, establish strategies to stop climate change and promote sustainable development with new "sustainability linked products".
The range of products included in the framework has been expanded. Buyer credit, factoring, guarantees, letters of credit, renting and leasing, reverse factoring, supplier credit, loans to exporters and working capital loans are joined by short-term deposits, structured deposits and supply chain finance. Thus, sustainability linked solutions can also be classified as green, social or sustainable.
For deposits and structured deposits, funds from BBVA clients will be invested in a portfolio of securities from companies that have been publicly recognized for their sustainable performance. In terms of supply chain finance solutions, BBVA clients will classify their suppliers in terms of sustainability in order to offer a pricing advantage to those that are more sustainable.
This framework for sustainable transaction banking is an initiative promoted by the bank's corporate transaction banking team, which prioritizes innovation and excellence when serving clients. A pioneer in sustainable finance, BBVA is committed to the UN Global Compact Principles, with the objectives established in the Paris Agreement (COP21) and to achieving the UN Sustainable Development Goals. This framework for sustainable transactional products, which also refers to market standards like the Green Bond Principles, Social Bond Principles, the Sustainability Bond Guidelines and the Green Loan Principles, reinforces this commitment and the sustainable financial solutions the bank offers its clients.