BBVA and China Harbour Engineering Company Limited sign green guarantee facility to build the Bogota subway
BBVA's teams in Asia and Colombia secured this cross-border transaction, which will allow Asian client China Harbour Engineering Company Limited (CHEC) to build, operate and service line 1 of the Bogota subway. The landmark agreement will contribute to financing the largest infrastructure project in Colombia's history, and is also the most ambitious cooperation project the country's ever signed with China. The transaction is the first one certified by BBVA in Asia in compliance with its sustainable transactional banking framework.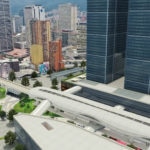 BBVA and CHEC have signed a $90 million guarantee facility to build Line 1 of Bogota's first-ever underground rail infrastructure. The electric public transport construction project has been certified as green in compliance with BBVA's sustainable transactional banking framework.
The concession agreement by and between Empresa Metro de Bogotá and the Chinese consortium will remain in force for a period of 28 years, and includes a 20-year agreement to operate and service Line 1 once it opens in 2028. The line, which will be operated by 30 trains, with a maximum capacity of 72,000 passengers per hour, will contribute to boost equality in the city, as 88 percent of its route runs through low-income districts. The landmark electricity-powered infrastructure will also contribute to improving traffic congestion and environmental conditions across the city.
The 14.8 mile long subway line will connect the southern section with a large portion of the northern sectors of the city,  from Portal Américas to avenida Caracas, across avenidas Villavicencio and Primero de Mayo, 8 Sur street and calle 1, to then connect with avenida Caracas to calle 78. This first stage will mobilize over one million passengers per day and will be one of the longest of the continent, surpassing cities like Quito (22 km, 13.7 mi), Sao Paulo (20.4 km, 12.7 mi) and Santiago de Chile (19.3 km, 11.9 mi).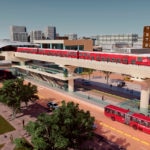 Images courtesy of Empresa Metro de Bogotá.
CHEC is a subsidiary of one of the world's largest contractors, China Communications Construction Company. Thanks to its technology, resources and business development, this leading construction company has earned a reputation for its operating excellence, and the quality and level of its customer service. Having singled out sustainability as a priority, CHEC's decision to partner with BBVA has been greatly influenced by the bank's Pledge 2025, one of the financial sector's most ambitious ones.
"It is valuable for us to be part of this sustainable operation with BBVA, which unites and symbolizes essential elements of the project and of our business culture. The use of cutting-edge and friendly technology to the environment, as well as the promise to achieve harmonious processes and connection between people, are elements that from the beginning have characterized the project of the First Line of the Bogotá Metro and which constitute the concept of sustainability for which we work in Colombia", said Wu Yu, legal representative of the Metro Line 1 SAS consortium.
BBVA Global Head of Cross-Border Teresa García-Agulló, said that this type of transactions are made possible thanks to BBVA Corporate & Investment Banking's global approach to business: "This agreement is an example of how the global coordination and operating approach between our teams in different geographies - in this case Asia and Colombia – allows us to provide a global service to an Asian client in Latin America. Our focus is to support our wholesale clients' international expansion initiatives, by leveraging the expertise of our local units across the bank's footprint to deliver the best service to our clients."
The CEO of BBVA in Colombia, Mario Pardo Bayona, said: "We are proud to participate in this operation and thus fulfill our commitment to the development of Bogota and all of Colombia through a project based on clean energy and sustainability that will bring great improvements in mobility and quality of life for the citizens of Bogota."
BBVA, a leader in sustainable finance
As a sign of its firm commitment to the fight against climate change, in 2018 BBVA approved its Pledge 2025, a plan that envisages the mobilization of €100 billion through 2025 in green financing, sustainable infrastructure, social entrepreneurship and financial inclusion. Between 2018 and 2019 it has already mobilized €30 billion. The bank has the capacity, knowledge and experience to provide its clients superior advisory services for sustainable financial solutions and is playing a key role in developing this market."
BBVA offers through its Corporate and Investment Banking unit a broad range of innovative products and services for its corporate clients. The corporate transactional banking team manages international trade transactions, proposing innovative solutions for exports and the optimization in cash flow management, with a special focus on letters of credit and national and international guarantees.