BBVA laments the passing of Stephen Hawking, winner of the BBVA Foundation's Frontiers of Knowledge Award
Stephen Hawking, the famous British physicist and one of the world's most brilliant scientific minds died at 76, as confirmed by a statement made by his family. The genius of astrophysics suffered from ALS, a degenerative disease, from the time he was 21 years old, thus exceeding life expectancy predictions. Since 2005 he was only able to communicate by means of a speech synthesizer.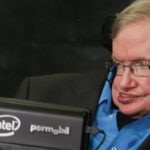 "We are deeply saddened that our beloved father passed away," Stephen Hawking's family stated and recalled that he was "a great scientist and an extraordinary man whose work and legacy will live on for many years."
Hawking's children wanted to underscore "his courage and persistence with his brilliance and humour inspired people across the world." In the emotional statement they wanted to emphasize one of the astrophysicist's phrases: "It would not be much of a universe if it wasn't home to the people you love."
A brilliant career with abundant recognitions. In 1985 he was awarded the Gold Medal from Britain's Royal Astronomical Society, he was a recipient of the Princess of Asturias Award in 1989, and he received the U.S. Presidential Freedom Medal in 2009. He also received various prizes and medals including the Royal Society's Copley Medal, the Albert Einstein Award, the Eddington Medal, the Breakthrough Prize in Fundamental Physics and the BBVA Foundation's Frontiers of Knowledge Award in Basic Sciences.
BBVA Executive Chairman Francisco González wished to pay tribute to Stephen Hawking: "We have lost one of the most brilliant scientists of our time, one of the few who has epitomized living without limits, the spirit to overcome, creativity and passion for knowledge all of which he contributed."
He also emphasized Hawking's contribution to science: "Stephen Hawking wasn't content to rest on the laurels of his scientific publications, rather he wanted to share his enthusiasm for research and scientific results with society as a whole though numerous conferences, books and interviews. For his essential contributions, he rightfully deserved the numerous awards, among which is the BBVA Foundation's Frontiers of Knowledge Award in Basic Sciences."
Hawking has epitomized living without limits, the spirit to overcome, creativity and passion for knowledge all of which he contributed."
Francisco González remembers delivering this prize with special affection: "It was an unforgettable pleasure and honor to present him the award at the University of Cambridge. His tremendous strength and vitality, his sense of humor and humanity, his constant daring to push our understanding of the universe further has turned him into a wonderful source of inspiration and an example for all the world to emulate."
Frontiers Award for the discovery of the origin of galaxies
The British physicist was awarded the BBVA Foundation Frontiers of Knowledge Award in the category of Basic Sciences, together with his Russian colleague, Viatcheslav Mukhanov.
"Professor Hawking represented the values of effort, achievement, creativity, and most of all a commitment to the advancement of knowledge. His research of the universe and galaxy formation has underpinned cosmology," Francisco González added. For his part, Hawking expressed his satisfaction in sharing the award with Mukhanov and wanted to emphasize that "it's the first time that my research in the area of galaxy formation has been recognized."
He brought science to the people
Born on January 8, 1942 in Oxford in the United Kingdom, Stephen Hawking was considered by the scientific community to be one of the most influential scientists since Albert Einstein. And not only for his contributions to science, but also for his desire to bring science to the world and for his courage in the face of the degenerative illness from which he suffered.
The world's most well-known scientist needed an electronic synthesizer, which he designed himself, to talk. A mechanism that allowed his voice to be heard in every corner of the world. Additionally, he used a chair that he controlled with eye and head movements to move about.
Recently he released a detailed report about black holes, the topic he researched the most during his lifetime. The work that shot him to international fame, though, was A Brief History of Time, which, with more than 10 million copies sold in more than 35 languages, was a record for a scientific work.
Finally, the astrophysicist who revealed a new way of interpreting the universe, died on the same day that his admired Albert Einstein was born. Two of humanity's brilliant minds.
En definitiva, un astrofísico que mostró una nueva forma de interpretar el universo y que fallece el mismo día que nació su admirado Albert Einstein. Dos mentes brillantes de la humanidad.