BBVA has launched Aqua, a new line of pioneering credit cards in Spain which feature a dynamic CVV code and do not contain card numbers (PAN) or expiration dates printed on them. This reinforces security both for its digital and physical versions since not having this data prevents possible fraudulent use of them. In addition, BBVA´s app has renewed the entire payment experience to make it easier for the customer to manage their expenses and order the services it offers based on their use. The bank is already working to launch this mobile experience in other countries.
BBVA has just launched a unique line of cards in Spain where for the first time the CVV is dynamic, proving greater security for all 'online' operations. Every time a customer wants to make a purchase, they must access the 'app' (Android and iPhone) and check the card number, CVV and expiration date.
This functionality is based on 'cloud' technology and advanced cryptographic algorithms to ensure the inviolability of the code generated for the end user.
In this way, BBVA goes beyond the changes introduced by PSD2 in terms of security. The bank was the first Spanish financial institution to massively deploy the new verification process for electronic transactions included in the European payments regulations (PSD2), which requires double authentication of the customer for purchases on the Internet.
Now, in addition to reinforcing its security by introducing these new elements—a dynamic CVV and hidden card number and expiration date—it has also increased the security level. If the customer loses the card no one will be able to use the same data to make online payments. The card has a debit, credit and prepaid mode.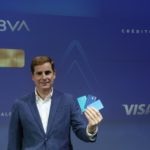 Gonzalo Rodríguez, during the launch of the Aqua card. - BBVA
The card will be issued in recycled plastic, thus fulfilling BBVA's objective of reducing environmental impact. BBVA was the first bank in Spain to distribute cards made from recycled plastic from various industries such as packaging, printing, automotive and windows.
New digital experience
"This initiative goes beyond the launch of a card. It is a new experience for our clients. When they first access the 'app', they will find the most popular services to facilitate their banking experience, they will have greater control of their expenses, they will be able to choose the payment method they want and have greater security in their online purchases, since the number and CVV do not appear on the cards", explains Gonzalo Rodríguez, Head of Business Development at BBVA in Spain.
To develop this new project, BBVA carried out a study on the use of cards and digital banking. It was carried out last December and included interviews with 1,000 customers in Spain. The conclusion is that when it comes to the most sought attributes, security, planning and control of expenses and products, as well as the possibility of being able to carry out a large number of operations through mobile phones, are the most valued.
The Aqua card includes the latest services that BBVA has recently incorporated into its application such as contactless cash withdrawals at ATMs. - BBVA
For this reason, BBVA is focused on offering a product that meets all customer demands, as it reinforces security, offers payment method choices to best suit the customer's needs, while they can control all movements and expenses through the 'app'. The card also allows mobile payment in physical stores which increases the operating possibilities with this new product.
In addition, the experience is completed with the latest services that BBVA has recently incorporated into the application, such as contactless cash withdrawals at ATMs or a global view of electronic businesses or platforms where customers have registered their bank cards. This new functionality allows customers to have greater control of the payment instruments that are stored on the network so that they will always be able to know in which digital platforms they have been entered.
Global project
"But it is a global project, since with the Aqua card the objective is to change customer experiences in the world of payment methods", adds Gonzalo Rodríguez.
BBVA has already launched this initiative in Mexico and Turkey. Recently, the bank launched the entire unified payment experience on mobile phones in Mexico and throughout the next year, customers in this country will have cards made of recycled materials without a PAN or CVV. Customers in Turkey already have a card without a PAN or CVV and the dynamic CVV will be implemented soon. The goal is to bring this same experience to other countries like Peru and Colombia as well.
The card will be available at the end of October. Aqua is compatible with all mobile payment systems offered by BBVA, in addition to the bank's own system, Apple Pay (iOS), Samsung Pay and Google Pay (Android).