BBVA launches new channels to improve customer relationships
BBVA is working on new and enhanced channels to offer customers an easier way to communicate with the bank, offering a seamless experience tailored to their needs. BBVA attaches great importance to the development and application of new technologies to help it innovate in the market. BBVA is a global bank present in more than 30 countries and offers solutions tailored to the needs of each one.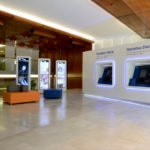 One example is Drivethru, a device that enables BBVA Compass customers to access (without having to get out of their car) many of the services offered in the branch offices, in real time. In case of doubt, the users can contact an operational manager through high-definition videoconferencing. As a result, the system retains the "human touch" and makes it possible to continue offering the personal service our customers are used to.
To implement this service, BBVA has partnered with companies like Wincor Nixdorf (software and hardware), Atento (supplier of the videoconferencing system) and Gravity (design and image of the device and user interface). BBVA has just installed the first Drivethru in Houston, Texas, and other pilots will be deployed in the U.S. in the coming months.
Across the Atlantic, in Spain, we have the evolution of ABIL, the new BBVA ATM that in this new version includes enhancements such as its modular composition, that will enable it to be adapted to the characteristics of the countries where it will be installed. A total of 200 ABIL ATMs are expected to be installed in Spain by the end of 2013, and in 2014 this new financial self-service terminal will gradually consolidate its position as the standard ATM to be installed.
Compared with traditional ATMs, ABIL is a technologically more advanced terminal that offers the same levels of availability and reliability. Its functions include the possibility of accessing the ATM using an electronic ID card or the bbva.es ID and password, operating with a contactless card (NFC), printing in A4 format, etc. It also enhances the customer's experience with a larger touch screen, a more modern and attractive design, and more intuitive menus.
The project that originated ABIL started in 2007, when BBVA considered the possibility of having a self-service channel completely focused on the customer, simpler, more flexible and more human-oriented. The first version of the ATM was designed on the basis of experience and observations of how customers and employees behaved at ATMs in BBVA branch offices in Spain, Mexico and the U.S. In 2011, ABIL was exhibited at the Museum of Modern Art in New York (MoMA).
The project has received international awards from The Banker magazine (Innovation in Delivery Channel Technology category), the Silver Mention in the commercial and industrial product category of the IDEA (International Design Excellence Award), the Bronze Mention in the D&AD 2010 awards and the IF.