BBVA launches Travel Packs in Spain and allows customers to save on their travels abroad
BBVA has launched Travel Packs; a new fully digital service that allows customers to save on fees and commissions during their travels abroad. Customers will be able to select the plan that best suits them, choosing from basic, standard and premium, and enjoy the advantages that each one provides; all without having to take out a new card. This new service is available for more than seven million debit and credit cards issued by the entity to individuals.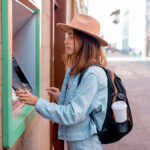 With this service, available since 15 June, BBVA customers will be able to withdraw cash from ATMs abroad as well as make card purchases in the local currency, with a flat rate depending on their travel plans. The customer will also be able to view all transactions made during their stay abroad and easily see what they have saved at all times, using the BBVA app.
Travel Packs offers three different plans so that the customer can select the plan that best meets their needs. The Basic Plan, at €2.99 a month, allows a one-time withdrawal of cash and up to €250 euros in purchases, without paying fees or commissions. The Standard Plan, however, allows the customer to make unlimited purchases on the card and make three cash withdrawals without paying any fees or commissions, all for €7.99 a month. Finally, the Premium Plan, allows unlimited cash withdrawals as well as purchases for €14.99 a month.
To register for this service, customers must access their private area of the app, select the card they want to contract the service for, click on Travel Packs and choose the plan that best suits their needs. There is also the advantage that the customer can select how long they need the service for (monthly or indefinitely) and pay only for the time it is going to be used. Lastly, the customer selects the activation date.
My Travels, the tool for planning your travels
In the summer of 2019, BBVA launched the My Travels function; a tool that allows customers to group all their travel expenses together, to create a budget to prevent overspending and to offer financial solutions during their travels, if needed.
Any BBVA customer can add planned trips, current trips and even those they took up to 4 months ago. Once the destination has been created on the app, the user can access a personalized panel with the details of their vacations and expenses, and they will be automatically categorized as they are incurred.
It is also possible to edit travel expenses, by adding those that were made with a card or in cash prior to the start of the trip or remove any unrelated payments. Depending on the destination, additional functions can be added such as the request for foreign currency or take out travel insurance.