BBVA Music Sessions stops in San Antonio with live performance from IYLA at Brick at Blue Star
Pop/R&B artist Iyla performed on September 19 at one of the award-winning BBVA Music Sessions concerts for free at the Brick at Blue Star.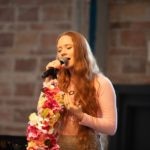 BBVA, a top-25 U.S. financial institution, AEG, the world's leading sports and live entertainment company, and AXS, a leading ticketing and technology provider, teamed up to bring the exclusive live-event concert series to music fans in Alamo City. The concert is part of a larger campaign from BBVA, AEG and AXS to bring an exclusive live-event concert series to music fans across the U.S. for the second year in a row. This year's BBVA Music Sessions are set to take place across five major U.S. cities and will feature some of today's top emerging artists.
"Part of BBVA's mission is to bring the age of opportunity to everyone, including in the arts and entertainment through our sponsorships," said BBVA USA San Antonio CEO Ryan Parker. "Unique experiences help us create opportunities for not only our clients, but the places where we do business, especially here in the key market of San Antonio."
As a part of the series, fans are getting a front-row seat to some of their favorite performers at some of AEG's most iconic venues in various cities around the country, including Houston, Birmingham, Austin, and Denver. These exclusive BBVA Music Sessions are part of the bank's multiyear agreement with AEG to create one-of-a-kind opportunities for customers in the form of innovative events, concerts and brand activations.
The series also provides interviews with the artists, as well as rare behind-the-scenes content for social media. The live-event series builds upon the bank's long-standing commitment to creating opportunities and positive experiences for both the clients and the various communities it serves.
All BBVA Music Sessions are also available for fans to live-stream worldwide via the AXS Facebook page.