Work-life balance measures, the working environment, development and training opportunities were all decisive factors in making BBVA the most attractive company to work for in the Spanish financial industry, according to the Randstad Employer Brand Research survey. The study was conducted by an independent entity among some 163,000 respondents —more than 7,100 within Spain— to understand the main reasons why someone would look to pursue a career at a given company rather than another.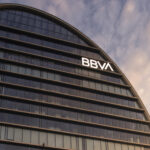 Opportunity for professional growth is certainly one of the key variables that has a major impact on the choice of company to work for. In fact, the study found that 77% of respondents would stay with their current company if only it offered development opportunities. This variable has a lot to do with the training opportunities on offer and was one of the main factors for why many respondents chose the bank as the most attractive place to work within the industry. BBVA is firmly committed to the development and growth of its teams and to succeed in this task it is pursuing a training strategy that in Spain alone meant more than 1,150,000 hours of training in 2022, for an average of 67 hours per employee.
Notably, 89% of the training delivered in 2022 took place online, thus combining self-development with a healthy work-life balance, which is something highly sought after among professionals when choosing which company to work for. "At BBVA we have full autonomy when deciding what learning path to follow. Online training allows our employees, wherever they are, to take a front seat when it comes to their development," explains BBVA's Head of Talent & Culture in Spain, Yolanda Martínez Bajo, who picked up the award.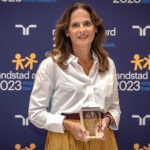 Yolanda Martínez Bajo, Head of Talent & Culture at BBVA in Spain
"It is a wonderful recognition of one of our strategic priorities, which is to have the best and most engaged team on the path to generating a positive impact on the lives of people and society," remarked Martínez Bajo. According to BBVA's Head of Talent & Culture in Spain, the bank has a strong corporate culture, a highly collaborative work environment and a leadership model that fosters "empowerment, enterprise and autonomy among teams", meaning that many employees "identify with our business project", she said.
Attracting and retaining talent at BBVA
The "People Plan" is one of the bank's key initiatives. It was launched two years ago to improve the day-to-day work of employees who work within the branch network and what makes it unique is that the employees themselves helped to draw up the plan. The bank has also taken some big steps forward in terms of diversity and inclusion; initiatives that were highly valued by 54% of respondents when choosing the company they wanted to work for. This has made BBVA "a benchmark within the sector" in attracting and retaining talent.
When it comes to development, the bank has improved its employee growth processes by making them more transparent and standardized, thus cementing the high-performance culture already in place. And in terms of working models, BBVA was one of the first large companies to consolidate a flexible working policy even before the pandemic and ensuing state of alert came to an end. Virtually all of the 12,000 employees eligible for this hybrid working arrangement have signed up, most of them attached to central services and support functions.
Awards and accolades granted to BBVA
BBVA has also received the Randstad Award 2023 in Argentina as the most attractive company to work for in the financial industry, for the second year running. On this occasion, it was for being the most financially healthy institution and for offering the very best opportunities for professional growth.
In the last year, BBVA has been made it on to various rankings and picked up several awards, with highlights including Time magazine, LinkedIn Top Companies in Spain, Top Employer Spain, Gallup Exceptional Workplace Award and the Merco Talent Spain report.