"Be Yourself" is the recommendation BBVA employees have made to encourage workplace diversity. These are the first steps of an initiative that the working group – with a show of support from the bank's management – presented to the rest of the bank employees. The event also included a group of speakers who addressed the challenges and difficulties faced by LGBTI individuals. It was a day to celebrate, but also to remember that it is it is up to everyone to create a diverse and inclusive work environment.
After illuminating a number of its regional headquarters with the colors of the pride flag, signing up to the United Nations "Standards of Conduct for Business on Tackling Discrimination against LGBTI people," and launching an awareness campaign run by their employees, BBVA ended Pride Week with an internal event to spread the word about its LGBTI initiatives.
"Diversity is an extremely important topic for BBVA. Diverse companies are better companies," Carlos Casas, BBVA global head of talent and culture, stressed. He inaugurated the event, which was organized by the bank's employees in order to present the LGBTI initiatives created under the framework of the bank's diversity program. According to Casas, diversity is an absolute priority for the department he manages: "When we talk about diversity, we talk about the ability to deliver different ideas, to innovate, to do things differently."
During his presentation, Carlos Casas was joined by Victoria del Castillo in demonstration of BBVA senior management support for the initiative. Del Castillo, BBVA's global head of strategy and M&A, revealed that one of the main reasons she signed up as the sponsor was because the initiative was employee conceived and driven. "Being employee-led makes this a powerful tool for cultural transformation," she said.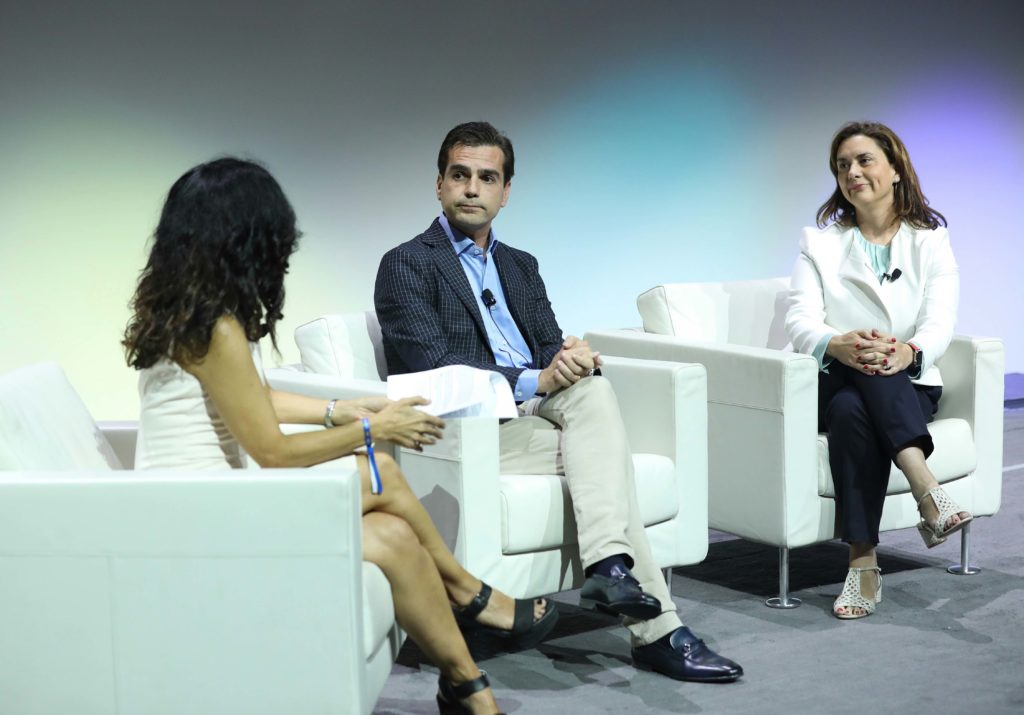 Carlos Casas, BBVA global head of talent and culture, y Victoria del Castillo, BBVA's global head of strategy and M&A, during the event. - BBVA
Both agreed that the near term goal should be that the projects that arise from the working group continue to materialize and these kind of projects cease to be considered unusual. In the words of Carlos Casas, the main challenge is "to reach a point where we can live naturally and be a bank where we all have a place and feel comfortable being together however we are." Victoria del Castillo concluded, "The day when the rainbow adorns BBVA headquarters – and it's not news – will be a day to celebrate the acceptance that has occurred in our day-to-day,".
"We all have a place here."
When Ízaro Amilibia, from the Talent and Culture department realized that the bank was working on this initiative, she didn't hesitate to volunteer to make the initial headway. After reaching various milestones during Pride Week, Ízaro introduced the working group that will shape the projects related to this initiative: "The working group has been created to cultivate a more inclusive work culture. We believe that everyone is inherently valuable and we need everyone to let their true selves shine through because we all have a place here." The working group will focus on three areas: working on LGBTI diversity policies, the creation of a coaching program for people who need support, and establishing a network of Allies to ensure inclusion is truly a reality.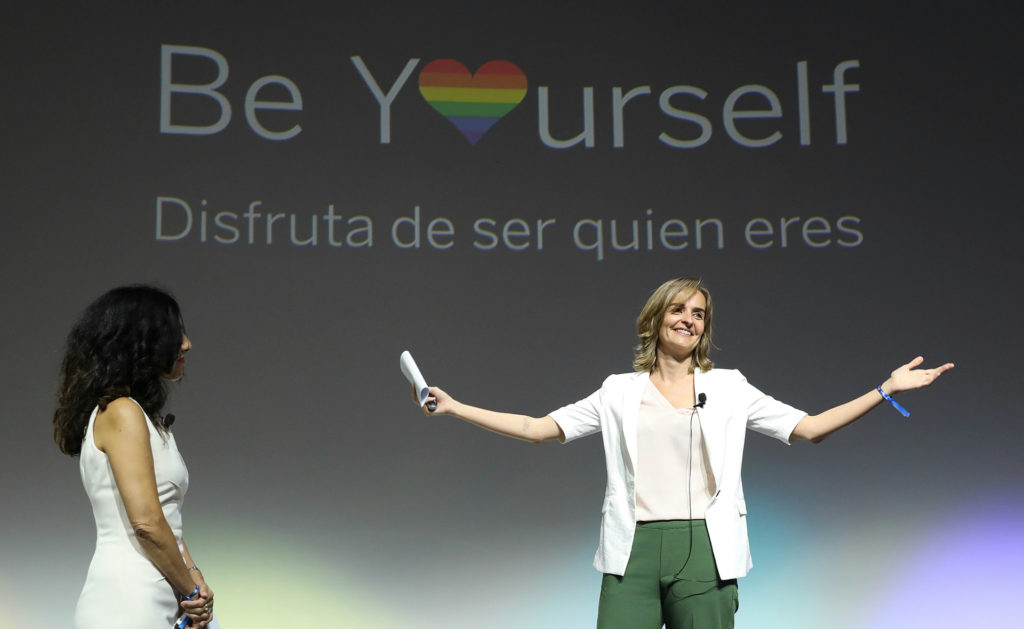 Ízaro Amilibia, in the presentation of "Be Yourself" proyect. - BBVA
A discussion panel that included Italy's ambassador to Spain, Stefano Sannino, followed Ízaro's introduction of the working group. Sannino, an LGBTI activist, spoke about self-acceptance as the decisive step towards openness in the workplace. Natalia Martos, CEO and founder of Legal Army, shared this opinion. She recalled that once she had taken the step at home, "it was much more natural to open up in a professional environment." The prestigious lawyer also addressed the dual challenge of being a lesbian at work: "There is double discrimination – as a women and a lesbian. In this respect too, women have been behind. Men have achieved more acceptance; it has been more challenging for us."
In the same vein, Marta Fernández, founder of LesWorking and co-managing director of REDI talked about the lack of role models to help other lesbians be more open. To put the topic into context, she quoted some data from a recent REDI study: "In Spain 60 percent of the LGBTI group surveyed is 'out' in their personal lives, but only 30 percent professionally."
Flora Egea, BBVA data protection officer stressed that those who aren't part of the LGBTI group also have an important role to play. "As part of the majority, we have an important role to play in supporting the acceptance of marginalized groups." Finally, Carla Alonso, an agile coach at BBVA, talked about how key these types of workplace policies are: "Historically, the workplace has been a place where we have been accustomed to wearing a mask. But every time you hide something about yourself, you pay for it. You distance yourself from your true potential, from your energy and creativity. It is something that impacts both the employee and the company."