BBVA's Diversity and Inclusion program has developed a pilot project to help female employees advance in their careers. Through a dynamic known as "speed networking", a group of female employees was able to expand their network of contacts at the bank and interact with a variety of different people with extensive experience and responsibility at the bank. This activity is part of BBVA's plan to bridge the gender gap and break any possible glass ceilings that could get in the way of its female employees' careers.
A group of 17 female BBVA employees participated in this pilot experience, which aims to help young women with outstanding performance have access to a series of senior professionals at the bank. A dynamic that allowed those selected to interact in an informal setting with high ranking directors - both male and female - through brief, individual conversations led by the participants and focused on topics that interest them the most.
This activity aims to contribute to the inclusion of the group of young women at the bank, giving them visibility at certain levels of the bank, facilitating the exchange of relevant information and giving them the opportunity to establish quality relationships in the future. The mentors in this initiative volunteered to offer the participants their knowledge and support to help them develop their careers. They were also able to understand the issues that concern the young women the most and help them with their own experience.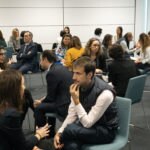 In the session, the 17 participants rotated every eight minutes, so that each of them had contact with every mentor. During the dynamic, they discussed the steps needed to advance in their careers, the factors that can help with promotions, the importance of managing their network of contacts, and how crucial it is to have a sponsor as a reference. Work-life balance, team management, and a professional image were also topics of discussion. Relevant issues that can help women in their careers and bridge the gender gap as soon as possible.