The groups of BBVA and JP Morgan employees created to foster diversity at the workplace held a joint session to work on some of the issues that concern staff the most in their professional development. Topics such as work-life balance, networking, leadership, and personal brands were discussed at the different working groups. Led by various mentors, employees from both companies discussed best practices, areas for improvement and team management trends.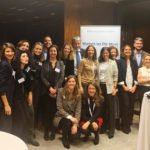 This is the first pilot organized by Move for Equality, the group of BBVA employees created to foment the role of women in the organization, identify areas to improve the gender gap and the glass ceiling, and provide female employees tools that enable them to fully advance in their careers. A project that took its first steps, supported by Women On The Move, a JP Morgan initiative with extensive experience in the subject.
BBVA's commitment to diversity entails promoting the creation of diverse work environments, with the idea of supporting groups with lower representation, or groups that encounter more difficulties in companies. The joint working session with JP Morgan, entitled "How to take the next step in your career" brought together employees from both companies in a dynamic  mentoring sessions, which allowed them to build closer ties with corporate groups that are conscious of diversity.
Divided into six groups, they addressed some of the issues that can have the biggest influence on employees' professional development. Each mentor shared his or her experience and offered some advice. It was time well spent, where participants learned from the experience and background of the professionals, while also expanding their network of contacts.
Identifying opportunities for development
Following the "speed mentoring" sessions, participants shared some of the conclusions. At the working group that discussed the topic of professional development, employees put the focus on how to identify opportunities, the importance of networking and emotional intelligence, not being afraid of change, getting out of your comfort zone, and being aware of  your own limitations to manage expectations well. In this regard, it is also essential to work on your own personal brand. Some advice they received was to know how to enhance their virtues instead of hiding their defects, and looking for opportunities to improve when receiving feedback from superiors and colleagues.
Another topic that was analyzed was new leadership styles and the search for emotionally capable managers, with in-depth knowledge of their colleagues' skills. People who know how to communicate and connect well with the team and who want to take risks and view mistakes as a way to learn.
One of the working groups that sparked the most interest was the group on work-life balance. Participants agreed that the challenge of achieving work-life balance should be addressed by both men and women, as trusting employees is essential, and it is important to lead by example. Conflict management and difficult conversations, and fomenting networking rounded out the topics covered in a day of reflection and joint learning shared by two very different companies with the same clear commitment to diversity.