BBVA promotes Spain by joining the 'Spain for Sure' campaign
BBVA has joined a campaign launched by Spain's government to promote the country's brand abroad.
BBVA executive chairman, Carlos Torres Vila, attended the launch of the international campaign, 'Spain for Sure' in an official ceremony held at the Prado Museum and presided over by the King and Queen of Spain and attended by the Minister of Culture, José Manuel Rodríguez Uribes, and the Minister of Foreign Affairs, Arancha González Laya.
'Spain for Sure' is a campaign to promote Spain's international brand, promoted by the authorities and in close collaboration with the private sector. The objective is to reach a diverse audience, comprising both Europeans and Americans, in order to generate interest in the county and deliver the message that Spain is a safe destination for travel, investment, or as a host for future events and activities.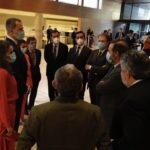 The campaign is led by Spain's Global Secretary of State, which is tasked with managing Spain's image and reputation, the Forum of Eminent Brands and the Spanish Chamber of Commerce. They are joined by Spain's export-import body, ICEX, Turespaña, and the Council of Sports, to name some of the government agencies, institutions, and companies involved in the initiative.
The campaign's first activity will consist of the distribution of a video emphasising confidence in and the security of the country. Several brand ambassadors for Spain will participate, delivering messages showcasing different areas where the country is an international leader, such as tourism, gastronomy, sports, culture, innovation, equality, and sustainability.
Included among the famous faces participating in the video are filmmakers, athletes, business people, dancers, and chefs, like the Roca brothers who are also brand ambassadors for BBVA Group.
BBVA joins other companies participating in the initiative by broadcasting the campaign via its various communication channels (BBVA.com, YouTube and on social media platforms).