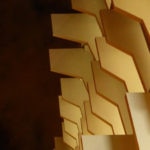 €3.45 billion of net attributable profit generated during the first nine months of the year. Overall, BBVA has earned 23.3% more than in the same period of the previous year. The reasons for this growth? Mainly three:

Strong recurring revenues. Between January and September 2017, BBVA Group generated a net interest income of €13.2 billion. Adding fees and commissions (e.g. recurring revenues), this item came to €16.91 billion, up 4.2% compared to the first nine months of 2016.
Control of operating expenses, which declined 1.7% compared to the same period of the previous year.
Reduction in loan-loss provisions.
11.2% of fully-loaded CET1 ratio as of the end of September. This figure means that the bank generated about 30 basis points of capital of the highest quality during the first nine months of the year. The ratio remains in line with BBVA's target (11%)
49.6% is the efficiency ratio achieved between January and September, once again under 50%, and improving on the ratio achieved during the same period of 2016. Also, income and cost trends generated, yet again, the so-called positive jaws.
4.5% is BBVA's NPL ratio (based on September 2017 figures, vs. 4.8% in June), the lowest level in five years. Coverage increased to 72%.
21.1 million digital customers across the globe, 24% than in September 2016. Of these 15.8 million interact with the bank through its mobile banking app – chosen by Forrester as the best in the world –, 43% more than one year ago.
25.4% of BBVA Group's sales have been through digital channels, compared to 16.8% in 2016. In Q3-17 alone, the Group sold more than 3.5 million units through digital channels, marking a milestone in BBVA's transformation. On a geography basis, digital sales vs. total sales between January and 2017 represent:

26.5% in Spain, vs. 17.1% in 2016
23.3% in the U.S. vs. 19.4% in 2016
18.3% in Mexico, compared to 11.9% in 2016
31.8% in Turkey, while the average in 2016 stood at 25.2%
32.8% in South America, a notable increase from 2016 (15.4%)