BBVA signs the Collective Commitment for Climate Action
BBVA is one of the signatories of the Collective Commitment to Climate Action that, under the auspices of the United Nations, 31 international financial institutions have promoted to ensure the alignment of their products and services to the fight against the climate emergency.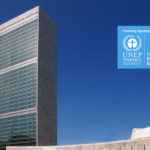 Inspired by the Principles for Responsible Banking signed in the UN General Assembly meeting in New York, this initiative testifies to its promoters' determination to align their portfolios "to reflect and finance the low-carbon, climate-resilient economy required to limit global warming to well-below 2, striving for 1.5 degrees Celsius".
For this purpose, BBVA and the rest of banks, "building on the Katowice Commitment", will pursue a set of common goals to "to help facilitate the economic transition necessary to achieve climate neutrality". Also, the 31 banks have committed to work together and support each other "in developing each bank's capabilities and the necessary methodologies to measure climate impact and alignment with global and local climate goals".
José Manuel González-Páramo, Executive Director and Global Head of Economics and Institutional Relations at BBVA, who participated in the summit in New York, dubbed this collective commitment a "step forward to work as a global coalition".  "At BBVA we are aware of the responsibility that we, as companies, share in the fight against climate change, and together with the other signatory banks, we will work committed to achieve a more sustainable society", he explained.
The United Nations considers this to be the "farthest-reaching commitment to climate alignment by the banking sector to date". "With the announcement of this historic commitment on the day of the UN Climate Action Summit, these banks demonstrate the importance that the private sector gives to its ongoing commitment to developing a low-carbon economy. They also evidence the constructive power of the banking industry in having a global impact through collective action," said Eric Usher, head of the UN Environment Programme Finance Initiative (UNEP FI).
To expedite the transition towards sustainable technologies, business models and societies, the Collective Commitment for Climate Action sets a 12-month deadline for the signatory institutions to publish and roll out the measures that, together with their customers, they will implement to support them in this transition. Also, the signatories also commit to - within a 3-year period - establish and publish specific goals, based on portfolio assignment scenarios.
The roadmap for delivering on these goals to move towards a low-carbon, eco-friendly economy will be defined in collaboration with other social agents: governments, stakeholders, other relevant institutions and experts on the topic.
 About the Principles for Responsible Banking
BBVA is one of the signatories of the Principles for Responsible Banking, promoted by the United Nations Environment Programme Finance Initiative (UNEP FI). These Principles embody the commitment of 130 banking institutions and the United Nations to take on the climate emergency and sustainability challenges facing society today.