BBVA, the best real estate provider in Latin America, according to Euromoney
The British publication has once again recognized BBVA as the bank with the best real estate solutions in the region. Furthermore, Euromoney named the Peru and Argentina franchises as finalists in their respective countries, thanks to their home loans.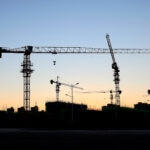 The 'Euromoney Real Estate' survey annually recognizes the best service providers and mortgage products in the world. In 2022, its 18th edition, nearly 7,000 experts participated, including advisors, developers, investment managers, banks, and also customers, selecting BBVA as the best bank in Latin America.
BBVA maintains its commitment to offering the best experience to mortgage customers, in which simplicity, transparency and speed take priority in operations. The Group also has personalized advice, with specific products and services to meet its customers' needs.
As part of its commitment to sustainability, BBVA has also strengthened green or sustainable solutions in the real estate market, as reflected in the offers available in markets like Peru and Colombia. In both markets, BBVA was a pioneer in offering green mortgage products that help to fight climate change and advance in the transition to a low carbon economy. And in Mexico, BBVA is responsible for one out of every four mortgages.
Solid offer in Argentina and Peru
This year, Euromoney also called attention to the BBVA franchises in Argentina and Peru, which were finalists in the survey by country thanks to their extensive catalog of real estate products and services.
In Peru, BBVA launched the country's first green mortgage last year, a time when the market is showing a clear trend toward sustainable real estate projects. In fact, the Group's Peruvian franchise estimates that 90 percent of its real estate portfolio will be sustainable by 2023.  "Since we launched the green mortgage at the end of 2021, we have placed over 120 million soles," explained Manuel Piñán, Real Estate Business Manager at BBVA Peru.
In Argentina, BBVA offers a wide range of mortgages, designed for purchase of first homes, home construction, or home remodeling.