BBVA wins renewed SRP recognition for structured products in its America Awards 2018
The trade media Structured Retail Products (SRP) has recognized BBVA in six of eight categories for which the bank was nominated. In its 2018 awards publication, the organization underscores BBVA's capabilities as a global structured products house for foreign exchange and interest rates. BBVA was singled out in the distributor category, winning best distributor performance in Peru and Mexico, best distributor in Peru, and was one of the finalists for best distributor in Mexico.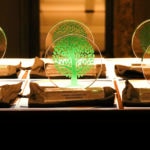 In recent years, BBVA has repeatedly stood out in the structured products market due to its ability to offer extremely competitive prices across a wide range of underlyings. In fact, customers and private banking professionals agree that BBVA is ahead of its local competition thanks to its quality of service and the products that it offers.
And they are not alone. For another year, BBVA has been recognized by SRP as a market leader in the Americas in the following categories:
Best House, Foreign Exchange
Best House, Interest Rates
Best House, Mexico
Best Performance, Mexico
Best Distributor, Peru
Best Performance, Peru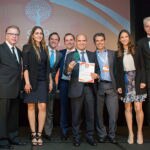 BBVA team at the SRP America Awards ceremony 2018.
The winners of these prizes are chosen as the result of the SRP's survey of structured product distributors in the Americas; while, for the sales and product activity categories, it draws on quantitative performance criteria.
In Latin America, BBVA Bancomer is especially singled with a high ranking. It is considered to be the uncontested leader in its region. In 2017, the bank controlled 49 percent of the warrants market and was the primary issuer of structured product notes, with a market share of 43 percent of the notional in circulation.
BBVA Bancomer is considered to be the uncontested leader in its region
In 2016 the bank had already widened its base of underlyings and structured products available to investors and deployed an electronic platform to operate directly with the market. In 2017 the bank's activity in Mexico was featured for taking advantage of product eligibility for capital repatriation and opportunities in local and foreign markets where they were able to reach local investor thanks to these products.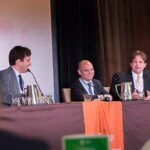 Manuel Meza (centre), BBVA Bancomer's head of Goobal Structured Solutions, in SRP America Awards 2018.
Manuel Meza, BBVA Bancomer's head of Global Structured Solutions, stressed that "receiving these recognitions bolsters the objectives that the bank has set for the business and that help our customers by offering better and more diversified portfolios, optimized according to their risk profile."
2017 was also a very good year for BBVA Peru, where the amnesty on taxes and capital repatriation drove client interest in structured products. This is the first year that SRP awarded prizes for Best Distributor and Best Performance in Peru, both of which were swept up by BBVA Continental. BBVA Continental offers structured deposits, notes, and bonds to its personal banking customers as well as premium and institutional customers with access to underlyings such as equity, interest rates, credit, and FX.
Global Structured Solutions is part of BBVA's Corporate and Investment Banking team of professionals. It is comprised of more than 30 professionals worldwide who are dedicated to product structuring. They also support the Global Markets sales teams.