BBVA is a large company with lots of stories to tell - so many that four year ago, bbva.com was born. The platform serves to give life to the countless things that a group with a 160 year history and a presence in over 30 countries does.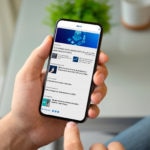 To do so, content is published on a daily basis in multiple formats (text, video, infographics, podcasts) that attempts to provide audiences of all kinds a closer view of the bank's realities. In 2019, BBVA's corporate website had over 21 million unique users and 55 million pageviews.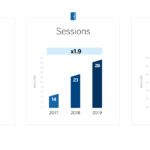 Most of the traffic comes from Spain (26 percent), followed by Mexico (23 percent), Colombia (10 percent), Argentina (nine percent), the U.S. (five percent) and other countries.
BBVA publishes multimedia content on this site in Spanish and English on topics such as finance, economics, innovation, technology, sustainability, responsible banking, and other current issues, as well as announcements about the bank. It also includes all of BBVA's financial and regulatory information.
The project began in 2016, and two years later podcasts were launched and the design was updated to make the website easier to use on all kinds of devices. And in 2019, a microsite was created where the bank publishes all communiqués and statements by bank spokespeople regarding the Cenyt case.
The first podcast program was 'Blink', which focuses on the transformation of the financial sector, fintech solutions, entrepreneurship, work methodologies and the economy. Blink was followed by 10 other programs, including 'Aprendemos juntos' (Let's learn together) - an initiative in conjunction with El País and Santillana that has been played one million times. The podcast phenomena has also spread to other countries where the bank has a presence, where local communications teams share their talent and knowledge. Of these, the following stand out: Mexico's "Desde la banca" (From the banking sector); Colombia's "Voces" (Voices); Peru's "Sencillo y Efectivo" (Simple and Effective) and "The Mind Bank" from the U.S. - the BBVA Group's first podcast in English.
In the year that just came to a close, users of BBVA's corporate website have been especially interested in content related to technology, the bank's new brand identity and the sale of loan portfolios. Of the articles that users read the most, those offering advice, or what to do for issues related to banking and personal finances also stand out. The agreement with Spotify to discover the musical identity of Spanish cities also made the top 10. Once again this year, the bbva.com team thanks its followers for their growing interest, and for spending time reading, listening, and sharing their content.