Across BBVA design thinking is now firmly entrenched into the core of the bank and is seen throughout the way it operates and does business.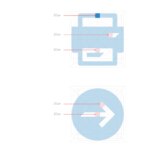 The transformation to a design led organisation has ensured that BBVA always puts its customers, clients and colleagues at the very heart of its plans, from products and services to the technology it employs everyday. More than that though, the transformation has also delivered a complete change in approach across the organisation.
BBVA now has a global design team comprising more than 200 people, and has more than 1,000 'design thinking' ambassadors across the business. BBVA uses agile methodology and scrum based working groups to manage workflows to deliver truly global products and services, sharing best practice and excellence across the footprint.
For BBVA this is about shifting towards the kind of atomic design models used by big tech firms like Google, Salesforce, Facebook, Microsoft and IBM. An atomic design model starts with the most basic design elements, like colours and typography, and builds up from there creating ever more complex elements - text fields become buttons become carousels become whole apps.
Using an atomic design system offers a scalable, modular approach to design, where all elements are consistent, are easy to update and are reusable across the business. Companies who use atomic design systems typically save 20%-40% in their time to market with products. It is common for software companies to have an atomic design system, it is not common for banks to have them.
The first step of this shift started back in late 2014 when BBVA identified the need for a world class design capability as a requirement to fulfill its digital transformation. In April 2015, BBVA acquired Spring Studio in order to capitalize the building out of this capability and to introduce Design Thinking into the wider business.
With Spring's support, BBVA has rolled out a number of high potential business opportunities, including for example, Tuyyo. Spring has also provided all the design and user research support to BBVA´s New Digital Business unit over the past three-years, leading to the deployment of half a dozen spun-out businesses.
Additionally Spring has been instrumental to the development of some key differentiator services, such as BBVA´s AI-driven chatbot experience, our next generation online banking experience. Spring Studio's natural affinity with the BBVA business drivers and future strategic direction, has now reached the point where much of Spring's capabilities have been subsumed into the core of the bank. As such, the time is right to evolve BBVA and Spring's design capability into the next phase of its development.
For BBVA this means continuing to build out its class leading design capabilities, using the foundations gained from the Spring acquisition and much of the team who came on board to work on the future direction of banking.
For the founders of Spring, Bruce Randall and Sanjay Shamdasani, it means that after an exceptional three years within the bank, they are returning to their entrepreneurial roots and pursuing a new chapter in their careers.
Rob Brown, BBVA's Global Head of Marketing, Design, and Responsible Business, said: "The Spring Studio acquisition has put us on the map and provided the impetus for building our in-house design capability. "The Design Thinking talent we identified in Spring has been incorporated into the very core of BBVA and lead to a remarkable transformation in the way we deliver banking services and run this global business.
"The time is right to evolve our design function with Spring as we look to the future. We are grateful to Bruce and Sanjay, who have been with us for three years - far longer than most acquired San Francisco-based business CEOs would have stayed and of course to the whole Spring Team."