Market analysts reacted positively to BBVA's better than expected quarterly results. Their reports underscored the bank's strong revenues, cost containment and capital generation. In terms of business areas, Mexico and Turkey's strong performance stood out.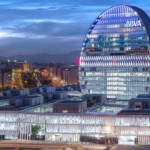 The figures presented by BBVA were better than the market consensus in the main areas of business and geographic locations. In fact, some analysts say that with these results, the bank is on the way to maintaining a double digit ROTE ratio at the end of 2017 for the first time in six years. At the end of March, BBVA presented a ROTE ratio of 11.1%.
In terms of the results, the aspects analysts stressed the most were:
1) For the Group as a whole:
Strong revenue performance, especially for fees and gains from financial transactions. Although the net interest income rose 4.1% compared to the first quarter last year, it was somewhat lower than analysts' expected.
Cost containment efforts, which fell 1.2% y-o-y, were better than the market consensus.
Solid capital generation in the quarter.
Credit quality received positive reactions, continuing a downward trend in the default rate that began in June 2015.
2) And by business area:
Once again, Mexico was the area analysts pointed to as having the strongest performance. They underscored the high double-digit growth in profit (+19.2% in constant terms), bolstered by revenue, cost containment and slightly lower than expected loan loss provisions. Looking toward the future, the country's improving macroeconomic outlook could help to make the results sustainable throughout 2017.
Turkey (+45.7% y-o-y in constant terms) was another area whose results received positive reactions, especially considering the complex situation in the country. Turkey had good performance in margins even though the franchise has a negative sensitivity to rate increases. Analysts also applauded the performance of asset quality and loan-loss provisions.
In terms of the banking business in Spain, analysts stressed the bank's strong performance in costs and loan-loss provisions. This factor boosted profit growth (+54.2% y-o-y), even with the addition of €148 million in provisions. Meanwhile, the area's net interest income was lower than expected and analysts are unsure how it will remain flat in 2017.
In the U.S., analysts called attention to growth in commissions and decline in costs as the main catalysts for the quarter's growth (€134 million).
South America's results were slightly lower than analysts expected. Nevertheless, the main line items were aligned with analysts' expectations, with the exception of loan-loss provisions, which were higher.
Without a doubt, analysts consider that the figures presented by BBVA confirm the Group's ability to generate high growth rates in 2017.