Birmingham school receives BBVA Compass Iron City Showdown tickets exactly 50 days away from the game
Exactly 50 days away from the BBVA Compass Iron City Showdown, Birmingham City Schools (BCS) recognized William J. Christian K-8 students as winners of the BCS Attendance Challenge. The school hosted a pep rally in the gymnasium to inform students of the honor.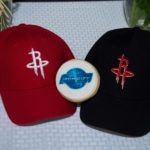 Summit Media, in partnership with BBVA Compass, rewarded the students with a free ticket to attend the BBVA Compass Iron City Showdown, a pro basketball preseason game featuring the Houston Rockets and the Memphis Grizzlies, on Tuesday, Oct. 2, 2018, at 7 p.m. at Legacy Arena. The game will mark the first pro basketball game played in Birmingham in 12 years.
We wanted to bring opportunities.
"A great start to the school year is as important as a great finish," said BBVA Compass Birmingham CEO Andrea Smith. "These tickets are more than just a way to get into the game, and the BBVA Compass Iron City Showdown is more than just a game. When BBVA Compass decided to bring this event to Birmingham, we wanted to bring more. We wanted to bring opportunities."
W.J. Christian recorded the best attendance in the district during the first week of school with the highest percentage of students present.
We commend our...students across our district...
"Being successful in the classroom starts with being present in the classroom," says Superintendent Dr. Lisa Herring. "We commend our W.J. Christian scholars and students across our district who have been in school since the very first day. Additionally, we thank our parents, school leaders and community members for promoting the urgency of strong attendance throughout the year."
BBVA Compass and the Houston Rockets teamed up to bring the game to Birmingham, announcing the event in August 2017. On May 3, the bank and its partners held a press conference held at the Alabama Sports Hall of Fame to announce the date, location and opponent of the game.
Robert Horry, a two-time champion with the Rockets who boasted a 16-year professional basketball career, and who was an All-SEC forward at the University of Alabama, did the honors of making the announcement.
I'm ready to see some high quality basketball...
"I basically grew up in Alabama, so to be here and be part of this announcement for the city of Birmingham was special for me," said Horry at the time. "I've teamed up with BBVA Compass many times, and every time I do, it's for something that is going to improve the places they call home. This is no different. I'm ready to see some high quality basketball action at the BJCC."
Fans can purchase tickets to the game, which start at $15, and find out more about events and other promotions leading up to the game, including a 3-on-3 summer basketball tournament, by visiting www.IronCityShowdown.com.