Bustillo: "We're always looking at ways to create a better customer experience"
Head of Commercial and Wealth Rafael Bustillo has been a leading force in the evolution of banking in his 30-plus years at BBVA. But, it's the future that he's most excited about. In the following interview, Bustillo gave his thoughts about the challenges and opportunities facing the bank's Commercial & Wealth team in the coming year.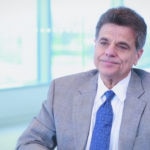 How would you describe 2019 for the bank's Commercial & Wealth business here in the U.S.?
Bustillo: Overall, we've had a very positive year. We're ending the year at 100 percent of our operating profit target, thanks primarily to significant deposit growth, a big boost in fee income and an outstanding job managing expenses.
Another area of focus in 2019 was the partnership between Commercial and Global Wealth. Rather than being siloed, we're seeing collaboration. As an example, if we have a relationship manager from Commercial meeting a client, you're likely to see a private banker from Global Wealth going on the same call. We're seeing that a good percentage of the business that is generated in Global Wealth has been referred by the commercial bankers, and we will continue fostering this strategy.
With Client Experience being a top priority, the Commercial Bank Net Promoter Score (NPS) continues to improve year over year, with strengthening client retention metrics and best-in-class performance in all eight Relationship Manager (RM) serving measures. NPS increased two points in 2019 from 54 to 56 and exceeded the 2019 goal by four points! Noteworthy RM servicing measures scoring five points above best-in-class include: understands financial priorities, knowledge of client's business, innovative solutions and ideas, and anticipates future business opportunities/risks.
Additionally, BBVA USA was named the 2019 CX Leader for U.S. Commercial Middle Market Banking, according to research-based financial consulting firm Greenwich Associates. Greenwich selects banks that achieve client experience scores that exceed the industry benchmark by a specified margin in three categories: overall satisfaction, likelihood to recommend, and likelihood to continue using or switch providers.
Global Wealth also saw a significant increase in NPS, increasing a remarkable 10 points, from 65 to 75. This ranks our Global Wealth group in the top quartile. Putting the client first is something we live daily.
What challenges await in 2020?
Bustillo: As interest rates go down, margins are shrinking, so banks are aggressively looking for volume to offset that margin compression. Across the industry, we're seeing banks take on a lot more risk. We have to be disciplined in making sure we bring in the right type of business, must be measured in our approach, and foster growth while ensuring an appropriate risk appetite. We're working very closely with our Risk team to determine the right course and balance in a competitive environment. Recently, we made some organizational moves to help better align our line of business with Risk. Lynne Herndon moved from her role as Commercial Banking Executive into her new position of Chief Wholesale Credit Risk Officer.
Another challenge, as it pertains to Global Wealth, is that the market is at an all-time high, and that is likely to correct itself. A high market brings a significant amount of fee income in asset management, so when the market decreases, that fee income will also decrease.
What are you most excited about?
Bustillo: Two words: profitable growth. We've developed strategic plans to grow organically in our footprint, with the goal of growing faster than our peers, and gaining more market share. We're looking at deploying more relationship managers and private bankers across the segments; additionally, we have added a new technology speciality group to help in the significant growth we are budgeting for 2020.
I truly believe that we are entering 2020 with momentum we didn't have at this time last year, and I'm incredibly optimistic about how we will continue to create opportunities for all customers, all while contributing to the growth of the bank.
---
To learn more about BBVA USA's Commercial Banking services, click here.
To learn more about BBVA USA's Global Wealth service, click here.