Carlos Torres Vila: "The European recovery plan is a landmark opportunity for Spain"
BBVA Executive Chairman Carlos Torres Vila has described the European recovery plan (Next Generation EU) as "a landmark opportunity for Spain." He asserted that "if the aid is complemented by appropriate reforms, Spain could put an end to its elevated structural unemployment, which has hovered above 16 percent over the last four decades, while laying the foundations of an economy based on green and digital growth, a data-driven economy."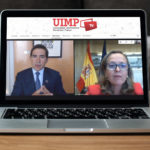 Carlos Torres Vila, together with Spanish vice president and minister of the Economy, Nadia Calviño, today opened the seminar, 'The Financial System in the COVID-19 Crisis: Challenges and Commitments,' which was organized by Spain's Association of Economic Journalists (APIE). Due to the ongoing pandemic situation, the event was held virtually, delivered from the Menéndez Pelayo International University (UIMP) in Santander.
The BBVA executive chairman began his speech by sharing his perspective on the economic impact of COVID-19 and the role banks play in the crisis. "If there is a lesson to be taken from the pandemic, it's that in times of crisis, digitization brings us closer than ever to our customers, providing service and offering advice when they need it most," he said.
According to Carlos Torres Vila, in the short term, "it is critical that we learn to live with a virus that will be with us for months or even years." In his opinion, the right combination of on-going healthcare measures will be decisive for the future and the economy; obvious measures such as, the widespread use of masks, focusing on high-risk groups, technological investments in tools like Radar Covid, teams of contact tracers, and transparency of information that is updated in real time. In the medium and long term, he believes, "we have a great opportunity to step up Spain's transformation. The pandemic has underscored the need for a more sustainable, more inclusive social and economic model, a productive model based on new technologies. To achieve this, Spain must strengthen the reforms needed for the economy, in order to bring its potential for growth to above 2 percent and particularly to reduce its structural unemployment rate," he said. Along this vein, he talked about the importance of education, "which is the engine for growth and equality," and about the job market, "which needs improvements in efficiency and equality, so it becomes more flexible and secure, reducing seasonal fluctuations, structural unemployment, and long-term unemployment, facilitating the reallocation of jobs to those sectors and companies that have the most promise for the future."
We have a great opportunity to step up Spain's transformation
Carlos Torres Vila added that the European recovery program, Next Generation EU, represents an opportunity to invest in Spain's transformation. With the agreed allocation of €750 billion (5.4 percent of Europe's GDP), the program represents a landmark in EU history. He explained that initial calculations indicate that Spain will be one of the primary beneficiaries of the funds, with resources close to €150 billion, including subsidies and loans: 12 percent of GDP or nearly €3,200 per capita.
The European Commission calculations forecast that its program will have a 4.2 percentage point impact on the 2024 GDP and a 2-point impact on 2022 employment for Spain. Even so, the BBVA executive chairman believes that in Spain "we have to strive to maximize these impacts, aiming for a more long-lasting impact on business activity and employment." To this end, Carlos Torres Vila is an advocate for investing the funds in those sectors that have the greatest multiplier effect; while not overlooking those sectors that have been most affected, investing in others that represent a clear competitive advantage for Spain, such as healthcare, research, technology development, energy, transportation, tourism, and construction. In addition, he believes that "private sector involvement is essential in order to optimally leverage the funding, multiplying its impact, and ensuring that it is designated to those activities that make economic sense."
We have to strive to maximize these impacts, aiming for a more long-lasting impact on business activity and employment
According to BBVA's top executive, "the European plan is a landmark opportunity for Spain." He went on to explain, "if the aid is complemented by appropriate reforms, Spain could put an end to one of the fundamental problems of our economy — its elevated structural unemployment, which has hovered above 16 percent over the last four decades — in addition to laying the foundations of an economy based on green and digital growth, a data-driven economy." He continued by saying "We must act immediately, so the funding is received as soon as possible and put to use to maximize its impact, coupling it with the required reforms."
Bringing his speech to a close, the BBVA executive chairman maintained that, "we have to reinvent ourselves, address our weaknesses, and once again demonstrate that we are up to the task and that together we can make the decisions that will lead to growth."