Treasury plays an essential role in a company as it oversees cash management in both the short and long term. Accordingly, when companies expand into international markets, whether through organic or inorganic growth, at some point they have to decide whether to operate with decentralized treasuries, in each of the different countries, or whether to take advantage of the benefits offered by the centralization and digitization of regional centers.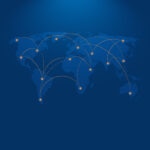 Globally centralizing processes has several key advantages: it improves cash flow visibility; optimizes liquidity across the organization; increases efficiency and reduces duplication; reduces costs through economies of scale; and enables more effective risk management.
However, although treasury centralization has many benefits, it is important for the company to have a digitization project in place to maximize automation, use of resources, process standardization and the use of economies of scale.
To achieve this automation, establishing connections between the companies' ERPs/TMS and the systems of the banks with which they operate is essential. These connections make increasing efficiency possible by standardizing and consolidating the information that companies send to banks to manage payments and collections, as well as the reception and consolidation of the information sent by the banks in the companies' treasury systems. This consolidation makes integrated and standardized management of the company's entire treasury possible.
Corporate treasuries must be able to operate from anywhere, with secure access at any time
Moreover, due to the pandemic, digitalization has become a must for companies. With the practice of remote working, corporate treasuries must be able to operate from anywhere, with secure access to all information at any time, in order to manage their day-to-day operations. This increased level of digitalization requires appropriate security standards to go hand in hand with it. Information security and control policies to protect against external attacks must be an integral part of this automation and digitalization strategy.
To help companies in their centralization and digitalization processes, BBVA has developed BBVA Pivot, an ecosystem of solutions that allow the optimization of the company's global treasury. BBVA Pivot makes operating in a seamless and secure way with all the countries in which BBVA is present possible. Our solutions allow for the centralization of all operations and comprehensive treasury management in any of our channels.
At BBVA we want to accompany our clients in the expansion of their business to new markets and consolidate ourselves as their global bank, helping them in their centralization and digitalization processes. We have already supported more than 1,000 companies in digitalizing their global treasury with an ecosystem of multi-channel solutions with high security levels such as Pivot net, our global e-banking solution, and Pivot Connect, our direct channel solution to connect companies' ERP/TMS to BBVA.
And BBVA's clients recognize this. Alejandro Payssé, Regional Treasury Manager for Latin America for the multinational Merck, recently participated in 'The challenges to be faced in the present for a better future', a conference organized by BBVA, where he explained: "We are looking for a bank that has a regional or global footprint and that allows a relationship not only domestically, but also supports global structures and offers a single point of contact. It is key for the bank to have strong technical capabilities and, at this point, digitalization plays a very important role thanks to the connectivity achieved through modern methods for paying suppliers, sending bank statements, etc., together with centralized electronic banking."
Annette Vivoni, Head of Global Cash Management Sales
Eduardo Ruiz Tarin, BBVA Pivot Net Product Owner