Although the most recent Gender Equality Report presented at the World Economic Forum recorded that Colombia has closed the gender equality gap by 75.1 percent, it is still a challenge to reach the figures of countries such as Iceland, which ranks first with 91.2 percent.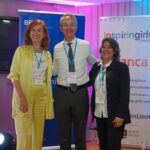 For this reason, the Inspiring Girls Colombia Foundation has been working for more than four years to impact and inspire the lives of school-age girls and adolescents, in both public and private schools in the country, to follow their dreams and goals, encouraging them not to let gender stereotypes limit their academic and professional aspirations.
Specifically, more than 6,400 girls and adolescents have already benefited from the initiative since the Inspiring Girls Foundation launched in the country. This is why the Foundation, with the support of its main ally, BBVA in Colombia, recognized the companies, schools and volunteers who have contributed to the development and success of empowering girls and adolescents in the country.
"We want girls to find a purpose in life and pursue careers and professions that have sometimes been labeled as exclusively for men. Our mission is to prevent girls from dropping out of school and to empower them to pursue their ideals with effort, passion and determination," says Ángela Feged, director of Inspiring Girls in Colombia.
Colombia is one of the countries in Latin America and the Caribbean that has narrowed the gender gap the most, but more girls need to be inspired. This requires the support and active participation of successful women role models from all professions and fields of work. The Foundation's volunteers play a key role in this process by sharing their personal and professional experiences with school-age girls, providing them with role models and raising their self-esteem and career aspirations.
"At BBVA, we are immensely proud of this agreement, now in its fifth year worldwide, which aims to make society aware of the impact of gender stereotypes on girls. In addition, it allows us to promote actions that not only mitigate this impact, but also raise awareness about equality between men and women," said Mario Pardo Bayona, Executive President of BBVA in Colombia.
In Latin America, women are underrepresented in the technology sector. Only 17 percent of the positions associated with these careers are held by women, while the remaining 83 percent go to men. "There is still a long way to go. We are convinced that spaces such as this alliance will allow us to empower new generations and create opportunities for all, influencing the future of Colombia and contributing to the reduction of inequalities," emphasized Pardo Bayona.
The event was attended by Marta Pérez Dorao, President of the Inspiring Girls Spain Foundation and Global Campaign Advisor for Inspiring Girls International, who praised the progress and growth the Foundation has achieved in Colombia. "It was clear to me that Colombia had to be one of the first countries to launch this project of enormous social impact. There is no doubt that it was, just look at how far Inspiring Girls has come. I have been impressed by how much the Foundation has grown and progressed here, and the fact is that talent knows no borders, much less limits."
In addition to BBVA, the Foundation has other partners such as Avianca, Albión Group, BlackRock, Durman by Aliaxis, Honeywell, Alapepa, Lithocopias, La Divisa, Unique, Vinconfi, Palacio, Golden Eventos y Logística S.A.S. Our collaborators are Mujeres TIC, Davivienda Corredores, LATAM, Secretary of Education of Bogotá, Claro, Corparques, Vuelta Canela, Kukis by Cata, AVACOMS.