BBVA, included in the Bloomberg Gender Equality Index for the sixth consecutive year
The 2023 Bloomberg Gender Equality Index measures companies' commitment and transparency in the presentation and monitoring of gender data. BBVA is listed on this benchmark index for the sixth year in a row with a score that is above the average for all companies; above the average for companies in the finance sector; and above the average for Spanish companies.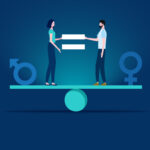 Bloomberg's analysis stressed BBVA's efforts to promote an inclusive corporate culture, its policy for parity and salary equality for men and women. "At BBVA, we are genuinely committed to inclusion and are firmly committed to people. We believe in diversity as a source of opportunities and are convinced that it makes us better. We strive to continue creating places of work that are free of prejudice so that our employees can fully develop their potential," said Carlos Casas, Global Head of Talent and Culture at BBVA. For the executive, Bloomberg's recognition "confirms that the diversity measures we are adopting at BBVA are having an impact. They serve as an example for other companies and foster equality to promote a more just and inclusive society."
Over the past year, the bank has continued to make significant progress in gender diversity, setting an ambitious, specific and measurable goal to measure its commitment to this issue. The bank aims to ensure that 35 percent of management positions are held by women by 2024.  And in order to achieve this, it is launching initiatives to promote and give visibility to in-house female talent, adopting measures for work-life balance, so that the workforce can have a better balance between their personal and professional lives, implementing a shared responsibility for family program so that men and women have the same opportunities at work when having a child, and making enormous progress in terms of flexibility thanks to the hybrid work model.
All of these actions have made BBVA a role model in the business world for diversity. This was demonstrated in the case study published by Gartner, which praised the bank's global strategy on diversity and inclusion. In its study, the U.S.-based consulting firm underscored  the creation of BBVA's Diversity and Inclusion Community of Practice, a group that collaborates with both in-house and external experts to design the most effective initiatives possible.  The financial institution was recently recognized by Financial Times as Europe's Diversity Leaders. In addition, BBVA was selected by Intrama as a Top Diversity Company for the fourth year in a row, and the Inspiring Girls Foundation presented BBVA the Inspiring Company award for its commitment to gender equality, support for dissemination programs, and promotion of female role models. The bank is also a signatory member of the Diversity Charter in Europe, and of the United Nations Women's Empowerment Principles.
Six years on the Bloomberg Index
These initiatives have led BBVA to be included in the Bloomberg Gender Equality Index, together with 483 companies around the world, representing 45 countries and regions. The finance, technology and public services sectors are the industries with the most companies on the index. "Congratulations to the companies that are included in the 2023 GEI," said Peter T. Grauer, Chairman of Bloomberg. "We continue to see an increase in both interest and membership globally, reflecting a shared goal of transparency in gender-related metrics," he added.
This reference index measures gender equality across five pillars: leadership and talent pipeline, equal pay & gender pay parity, inclusive culture, anti-sexual harassment policies, and external brand.