Credit Gate 24 named best startup at BBVA Open Talent Switzerland 2018
CreditGate24, a company that specializes in financing to individuals and companies, has been chosen as the best Swiss startup in the final of BBVA Open Talent Switzerland held in Zürich. The fintech will represent Switzerland in the global final to be held October 16-17 in Madrid.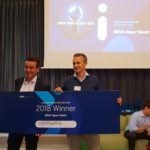 Alfonso Gómez, BBVA CEO in Switzerland, welcomed participants in the first edition of BBVA Open Talks Switzerland organized with Seedstars where the Open Talent finalists presented their projects. Gómez underscored BBVA's commitment to the fintech ecosystem and its support for entrepreneurship. "BBVA is looking for the best entrepreneurs to work alongside them in these times of change and transformation we are going through".
During Open Talk, the five companies in the final presented their projects to the judges. Among companies focused on sectors such as crowd funding, robo-advisory services, blockchain and fully digital processes, the winner that emerged was CreditGate 24, which walked away with the prize for the best startup. CreditGate24 specializes in putting in touch in its own digital marketplace individuals and companies looking for financing with interested investors.
Apart from choosing the winner of Open Talent, Open Talk brought together experts in the techno-finance area to speak about the challenges these companies face. Javier Rubio, head of business development at BBVA in Switzerland, pointed out that the irruption of financial startups is a good opportunity to speed up the transformation of banking. "The sector needs new ideas and professionals with new skills ready to take on significant challenges". He gave as an example telecommunications companies which in the past few years have seen how technology has completely changed their business model and have had to move toward new products and services.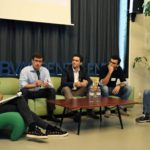 Javier Rubio, of  BBVA Switzerland, during his speech.
John Hucker, the president of Swiss Finance + Technology Association, pointed to the role of Switzerland as an innovative country. "Because of its stability, regulations and geostrategic position it is a very attractive country for fintechs".
BBVA Open Talent is the competition organized by BBVA, which, now in its tenth edition, looks for the best ideas in the fintech community hoping to revolutionize banking. The global final will be held in Madrid October 16-18 during the BBVA Open Summit, the event in which BBVA brings together pioneers and leaders in many disciplines in technology and innovation.