ECB meeting: European Central Bank extends asset purchase program, for longer than expected, but at a slower pace
The ECB will keep interest rates unchanged and extend its bond-buying program until the end of 2017, although for a lower amount, starting in April. Draghi did not rule out the possibility of new extensions if conditions are not favorable. The market reacted with significant increases.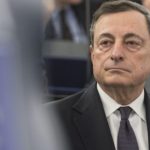 The Governing Council of the European Central Bank (ECB) decided to keep interest rates unchanged at 0.00%, as well as the marginal rate and deposit rate at 0.25% and -0.4%, respectively. The Governing Council announced that interest rates could at present levels (or even lower) for an extended period of time.
As regards non-convential monetary policy measures, the Governing Council decided to extend the asset purchase program through the end of 2017. These purchases will remain at their current level (€80 billion per month) until the end of March 2017. Starting in April, the monthly pace of net purchases will be reduced to €60 billion, although the institution did not rule out the possibility to increase the program in terms of size and/or duration if the outlook becomes less favorable.  The announcement, which came as a surprise, forced Draghi to do his best to explain that the reduction in the purchase program was not a case of "tapering" (to prevent a negative market reactions).
Also, the ECB adjusted the parameters of its asset purchase program that will kick in on January 2017, envisaging a decrease in the minimum remaining maturity for eligible securities from two years to one year and the purchase of securities with a yield to maturity below the interest rate on the ECB's deposit facility (-0.4%).
Finally, the President announced the ECB's forecasts for GDP growth for the euro zone (1.7 % in 2017 and 1.6 % in 2018 and 2019) and inflation (1.3% for 2017, 1.5% in 2018 and +1.7% in 2019). Forecasts remained virtually unchanged, although inflation forecasts for 2019 are still below target levels.
Markets rallied after the ECB's announcement, and most indexes closed at almost session highs. The banking sector's reactions were notably positive, outpacing general indices (StoxxBanca +2.32%), supported by the increase in interest rates and a steeper curve.