Mario Draghi did not announce any new changes in monetary policy at Thursday's press conference, but the latest European Central Bank (ECB) meeting did lead to some updates. On the one hand, the ECB is more optimistic about economic growth. On the other, it is raising its 2017 inflation forecast to 1.7% (from 1.3% in December) due to growing energy prices, but it barely changed its core inflation projection. And last, but not least, it added some nuances to its wording, which could be the prelude to changes in its monetary policy,  BBVA Research notes in its ECB Watch report.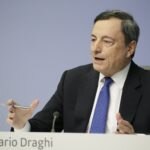 As expected, the ECB has once again left interest rates at an all-time low, one year after they first reached 0%. They also left the deposit rate at -0.4%. In fact, "the Governing Council continues to expect the key ECB interest rates to remain at present or lower levels for an extended period of time, and well past the horizon of the net asset purchases," as it confirmed in a press release. Mario Draghi preferred not to speculate about a possible rate hike.
The ECB is more optimistic about the eurozone's growth outlook than three months ago, slightly increasing its projections (0.1 percentage point) to 1.8% for 2017 and 1.7% for 2018.
BBVA Research underscores that risks are likely to decrease and are predominately related to global factors that are seen as less pronounced, Mario Draghi explained at the press conference
In terms of inflation, the overall outlook remains unchanged as the ECB sees "no signs yet of a convincing upward trend in underlying inflation," reports BBVA Research. Inflation increased significantly this year (by four tenths to 1.7% year-on-year) due to rising energy and food prices in recent months. However, this has not altered the overall outlook as these price increases should be temporary. The forecast for the medium-term remains at 1.6% for 2018 and 1.7% for 2019.
The pace of net asset purchases will also continue as planned with no alterations. According to the ECB's December statement, purchases will decline to €60 billion per month (down from the current rate of €80 billion per month) starting in April and at least December this year.
Looking toward the future, BBVA Research notes that the ECB made a slight tweak to its statement as Mario Draghi reported that the urgent need for further action has diminished. In BBVA Research's view, "This could be a small step or the prelude to additional changes in the ECB's forward guidance in the coming months."