Ecologists Duarte, Hughes, and Pauly receive the Frontiers of Knowledge Award for their contributions to marine conservation
The decision delivered by the jury, which was presided over by Duke University's Professor Emily Bernhardt, referred to the three ecologists as being "at the absolute forefront" of the scientific drive to understand and confront three of the greatest threats to our oceans. The award recipients, working independently, have transformed our concept of the world's oceans. They have shed light on the ocean's potential to serve as a great catch basin for the planet's carbon (Duarte), called attention to the fragile state of our coral reefs (Hughes), and delivered crucial tools in order to accomplish sustainability in the fishing industry (Pauly).
Their cutting-edge work has introduced these research areas to a global audience. "Their work is cross-disciplinary and cross-border and does not stop at certifying the damage, but goes beyond that to seek and propose solutions," Bernhardt stated.
The potential of blue carbon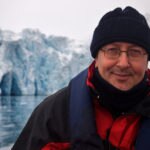 Carlos Duarte, BBVA Foundation Frontiers of Knowledge Award in the category of Ecology and Conservation Biology - BBVA Foundation
Carlos Duarte, currently Tarek Ahmed Juffali Chair in Red Sea Ecology at the King Abdullah University of Science and Technology (Saudi Arabia), has demonstrated that coastal ecosystems such as ocean seagrass have significant capacity to absorb atmospheric carbon. His research had already concluded in 1996 that the capacity of seagrass meadows and mangroves to absorb atmospheric carbon surpasses that of the Amazon.
These ecosystems, which Duarte calls the "hidden forests of the biosphere," thus act as powerful catch basins for carbon, burying the carbon absorbed from the atmosphere in the sediment on the marine floor. In 2005, Duarte coined the term "blue carbon" to describe these ecosystems. The United Nations asked him to take the lead creating a report assessing the potential role of these ecosystems as a solution to climate change. Thus the Blue Carbon Initiative was conceived. It is an international program that aims to mitigate climate change through the conservation and restoration of these coastal habitats, which today are seriously threatened.
"When people talk about nature-based climate change solutions, they are talking about blue carbon. Many countries interested in measuring their blue carbon resources are contacting me in order to use their mangroves and seagrass beds to help mitigate climate change," Duarte says.
Save the coral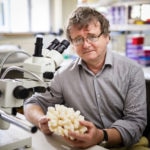 Terence Hughes, BBVA Foundation Frontiers of Knowledge Award in the category of Ecology and Conservation Biology - BBVA Foundation
Terence Hughes is the world's preeminent researcher of coral reef ecology and the damage caused to reefs as a consequence of climate change, pollution, and over-fishing. By the mid-1990s his research was already raising concern about coral reef degradation across the planet.
"Coral reefs are not only beautiful places where people with the economic means can enjoy their vacations. We must not forget that there are 400 million people who depend on them for their food security and their livelihoods," Hughes explained after learning he had been named a Frontiers of Knowledge laureate. His research has focused on the phenomenon of coral bleaching caused by climate change. Coral bleaching is damage caused by the coral's exposure to elevated ocean temperatures, which in turn causes stress to coral organisms. When bleaching is significant and prolonged, much of the coral can die. It takes at least a decade before it is replaced.
Hughes points out that climate change is "the greatest current threat" to coral reefs, though he thinks there is still time to counter the impact. "It is still not too late. The window of opportunity to save the reefs is still open, but it's closing rapidly. We can't lose any more time; we have to act now in order to reduce pollutants."
The marine encyclopedia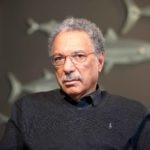 Daniel Pauly, BBVA Foundation Frontiers of Knowledge Award in the category of Ecology and Conservation Biology - BBVA Foundation
Finally, Daniel Pauly has used computer-based tools to document the decline of global fish populations, thus disclosing the grave loss of marine diversity. Said tools include the online encyclopedia FishBase, a database created in 1990 with data on over 35,000 marine species. Pauly's approach to gathering data on global fish catches includes data at times overlooked by official statistics. For example, he collects data on traditional fishing and discards, which turn out to have a greater impact than anticipated, significantly worsening the worldwide statistics on overfishing.
Pauly has also led new data-collection methods such as equations and models to evaluate levels of fish stock and draw up estimates. His most outstanding contributions include a computer-based method to estimate fish stock dynamics and a demonstration of fish migrations resulting from climate change, which estimates that each year fish are moving five kilometers closer to the poles.
"Fish catches have proven to be the most important factor in marine ecosystem changes, more than pollution, although this might change in the future with global warming," the ecologist asserted after he learned that he had been recognized with the Frontiers of Knowledge Award. According to Pauly, "the degradation of marine ecosystems is extremely serious, we are losing the ability of the oceans to supply us with food." Although, he also maintains that there is still time to act and reverse the situation.