Edtech classroom: artificial intelligence and innovation to shape the education of the future
Machine learning, metaverse and chatbots are some of the technologies that stimulate and facilitate learning in a virtual environment with great potential. Edtech startups, including some thirty unicorns, are confronting the digital divide to achieve the democratisation of knowledge thanks to the Internet and are coming up with innovations to motivate students in front of the screen.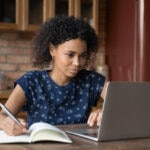 The new school year is off to a start. Students are ready start today's class with a sharpened pencil in hand, an open notebook and a clear mind. Without the need to commute and with the possibility of choosing the most convenient schedule for each situation, e-learning opens the digital doors to learning from anywhere. You can do so just by having access to the internet and wanting to learn something new, thanks to edtech startups (technology applied to education) that develop innovative methods and resources to help knowledge reach every corner of the world.
Proof of the potential of this sector is the growth of venture capital investment, which nearly quintupled between 2017 and 2021: from $4.4 billion in 2017 to $20 billion in 2021, according to the firm Holon IQ. The forecasts for this sector are also very favourable. It is one of the technology trends of 2022 selected by BBVA Open Innovation, and it is estimated that the market will reach 2028 with an annual growth rate of 20%, according to Global Market Insights.
The opportunity to make the most of technology in education is the goal of many startups seeking to innovate, attract users and differentiate themselves in an increasingly large and competitive market. In fact, there are already 32 edtech unicorns (companies valued at more than 1 billion euros) in the world, according to CB Insights.
The acceleration of edtech
One of the emerging companies in the educational field is GoKoan, which offers a digital learning tool to optimise and facilitate the management of the study of competitive examinations. Its own founder and CEO, Clara Torrijos, decided to take a competitive examination, but she quickly realised "that it was a very traditional market with a very wide scope for technological innovation". That is why she decided to change her career path and become an entrepreneur by turning the system upside down: instead of having to adapt to the schedules of an academy, her platform was created to enable students to plan competitive examinations adapted to each personal circumstance and to generate a collaborative learning community.
There are also other educational startups with a more general focus. Platzi, an online learning platform that has raised $62 million in a Series B round to accelerate its expansion plans in Latin America, is an example of this. The company, which participated a few months ago in a BBVA Open Talks virtual event on innovation in education, has more than 1,000 courses for its more than four million users to acquire digital knowledge. According to Camila Gonzalez, Platzi's education partner manager, "most students come to Platzi to learn programming, English and digital marketing, although soft skills is another popular subject". 'Soft skills', which are skills related to emotional intelligence, communication and leadership, play a fundamental role when it comes to entrepreneurship and have become more relevant since the pandemic, as shown in this article from BBVA Open Innovation.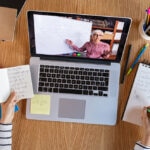 Opportunities also arise from circumstances, and the lockdown and digital transformation in the wake of COVID-19 were key to the rise of the edtech sector. Rodrigo Rodríguez, CEO of ODILO, an e-learning provider that has just raised 60 million euros in one of the largest rounds this year in Spain, confirms this: "We have gone from having 100 million users in 2020 to currently having 170 million.
However, in the face of this increased demand, "it was possible that many people would fall for solutions that didn't offer a good experience", says Platzi's education partner manager, Camila Gonzalez. Being in the spotlight is an opportunity, but it also carries risks. "Not knowing how to use these tools or not being clear about which platform to choose can tarnish the industry's image forever", explains the head of this leading platform for programmers, as highlighted by BBVA Open Innovation.
Big challenges, big solutions
For edtech platforms to succeed beyond their inception, one of the challenges is to offer innovative content to the user. "We realised that one of the big barriers in the e-learning market is the generation and updating of content and resources", says Clara Torrijos. As a solution, GoKoan uses natural language processing (NLP) to interpret content and train artificial intelligence (AI) to generate new activities from existing ones.
The potential of the internet is infinite and so are the possibilities for innovation on the digital whiteboard. "The internet is about putting us all on an equal footing in terms of access to education and knowledge", says Camila González, who also reminds us that ending the digital divide is a priority for the internet to be at the service of society as a whole.
The digital divide, which affects more than 2.9 billion people worldwide, is another of the challenges facing the edtech sector. BBVA and the Foundation Against Drug Addiction (FAD) have conducted a survey to find out the concerns of teachers, parents and students in the new educational context and the main ones are lack of connectivity, lack of digital skills and motivation. María Erquiaga, senior manager in sustainability at BBVA, explains that "technological discrimination is a form of poverty and social exclusion, as it deprives part of the population of essential resources for development".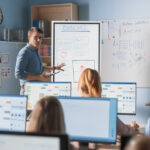 Reducing this gap is the main objective of the BBVA and FAD's Connected Education Programme, an initiative that was created in 2020 "to contribute to the digital transformation of education in Spain", says Erquiaga, who is also a spokesperson for the initiative. Since its launch, it has provided free digital skills training content to more than 17,000 students, families and teachers up until 2021. The project continues this year to support the educational community.
Digital transformation and education
Edtech startups also work to boost motivation, another of the challenges identified in the BBVA and FAD research. "One of the challenges of e-learning training is how to get the student's attention: for people to follow a fully online course, it is necessary to keep motivation high", says Clara Torrijos, from GoKoan.
To achieve this, some startups in the edtech sector use chatbots to converse with and motivate students or machine learning to adapt the content to each person. In addition, "algorithms and usage data can make assessments increasingly automated and allow us to learn from student responses", Torrijos adds.
In the near future, this entrepreneur stresses that augmented reality will also "generate much more enjoyable, interactive and human learning experiences". In addition, several studies recognise the potential of the metaverse as a support system for students to enter the virtual classroom and interact with peers who are thousands of miles away, something that will increase their interest. Some companies are already exploring this opportunity. ODILO applies artificial intelligence to "create unique learning paths and experiences for both organisations and users", as CEO Rodrigo Rodriguez explains. In order to enhance this motivation, it promotes a new model that puts students and trainers at the forefront and allows them to learn with content and experiences adapted to each one, prioritising continuous learning.
Two of the objectives pursued by edtech startups with the help of technology are offering varied, personalised and interesting content and making the most of the internet to shorten the distance between people and knowledge. Under this premise, innovations in education will also make the back-to-school period enjoyable when using an interactive whiteboard and even, at some point, in an immersive classroom.