El Celler de Can Roca wins Istanbul's heart once again
The partnership between BBVA and the Girona-based restaurant has brought chef Joan Roca back to Turkey. Following the Roca brothers' 2015 success in the Ottoman country, documented in the film 'The Turkish Way,' the eldest of the Roca brothers has returned to Istanbul to share his business model with Garanti BBVA employees and customers.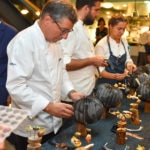 Chef Joan Roca joined Garanti BBVA in Istanbul to offer two exclusive dinners in the Turkish city. The chef had the opportunity to share knowledge with bank employees and explain how his customer-oriented business model has earned the restaurant the best awards in the culinary world.
"In 2013, our restaurant was named the best restaurant in the world," said Joan Roca. "Then the offers came. We received requests to open another restaurant, but the most original offer at the time came from BBVA. They offered to go on a culinary tour together. That's how our relationship began and we are still learning."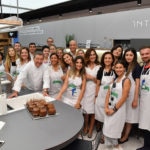 Joan Roca with Garanti BBVA employees - BBVA
Turkey was one of the stops on the 2015 BBVA tour. They traveled across the country to learn about its culinary traditions and get to know the products and ancestral techniques that fill its recipe book. The visit to the country concluded with an honorary dinner where the Roca brothers incorporated everything they had learned and paid tribute to the country's cuisine.
Cooking as a team
In one of the activities led by Joan Roca, several Garanti BBVA employees got the chance to cook following the Catalan chef's instructions, who made the connection between business and cooking. "While you are cooking, you have to understand your ingredients, think about your health, the planet, sustainability… I think all of this is connected to the corporate world," Joan said.
For the chef, cooking "improves both teamwork and creativity because being in the kitchen implies working as a team." An opinion that Garanti BBVA Executive Vice President Osman Tüzün shares: "The previous generation of executives had the mentality of wanting their employees to sit at their desks and work every second of the day.  We are trying to break away from that mentality. That's why we involve directors in activities like this," underscores Tüzün.