El Celler de Can Roca, the best restaurant in the world according to the British magazine Restaurant, has revealed today some of the ingredients that will be part of the menus that the Roca brothers will cook during their BBVA Tour 2015, which will take them to Argentina, the United States and Turkey.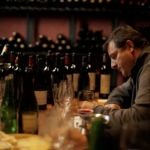 Joan and Jordi Roca will cook a total of 51 different dishes, all of them served with wines from Spain, Argentina and the United States, carefully selected by Josep Roca to accompany the cuisine.
In the Argentinian menu, typical products from the country will stand out, such as lamb, black hake, mate, cheese and quince, along with reinterpretations of traditional plates such as alfajores, choripán or chimichurri. In the United States, the Roca brothers will prepare different specialties for each one of the cities, with new versions of some of their classical recipes, such as the dessert "Viaje a La Habana" (Miami, Florida), or new creations such as the Fried Green Tomatoes (Birmingham, Alabama) or "What Does the Moon Taste Like, Houston?" (Houston, Texas).
The BBVA Tour- El Celler de Can Roca 2015 will begin on the 1st of August, when around 40  members of the team from the best restaurant in the world will travel to Buenos Aires, where 500 clients and BBVA Francés guests will enjoy a special menu in La Rural of Argentina capital. Afterwards, the Catalonian chefs and their staff will fly to Miami (12th-13th of August at the SeaFair yacht), Birmingham (18th-19th of August, a private country club), Houston (24th-26th of August, Caracol restaurant) and Istanbul (31st of August- 3rd of September, Salt Galata building).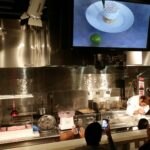 Scholarship program and new documentary
The second gastronomic tour, resulting from a global alliance between BBVA and El Celler de Can Roca, keeps its social component intact in relation to 2014. The Roca brothers will select two culinary students from the host countries with the purpose of fostering local talent. These young cooks will benefit from a 4-month scholarship at the Roca brothers' restaurant in Girona. Annually, the restaurant receives more than 400 internship applications; therefore, the fact that these students will take part of El Celler de Can Roca team can be considered the best possible incentive. Furthermore, the trio from Girona will train hundreds of students through conferences in every city included on the tour.
Also, a few days ago the members of El Celler de Can Roca celebrated the end of shooting the film "The Turkish Way", the second part of the film "Cooking up a Tribute", released during the last Berlin festival and which is currently being shown at the world's major film festivals.
Follow the Roca brothers at 2015 BBVA - El Celler de Can Roca