In the seventies, 'El Cholo' Sotil played alongside Cruyff at Barcelona. In just one season he shot to fame. Why did he leave so soon? And why has he not been forgotten?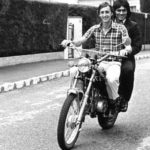 "Sir, four gringos are here looking for you", muttered his housekeeper that evening in 1973 when Dutch manager Rinus Michels turned up at his house. "That's odd", thought Hugo Sotil as he hurried to the door, "only Indians and Cholos come around here, no gringos". Outside he was met by the Barcelona manager, the club president and another two club officials.
"They thought all Peruvians were weak. They didn't expect to be dealing with a tough Cholo like me
Following an initial greeting, the visitors explained that they had been at the Matute stadium that afternoon to watch the game between Alianza Lima and Deportivo Municipal. "We came to see Nene Cubillas; we were thinking about taking him on". Then they told him they had been impressed by his dribbling, his power, his audaciousness and his sudden turn of pace. They asked Sotil if he wanted to play in the Spanish league. He agreed immediately, before he even knew which team he would play for. They signed some papers, paid Deportivo Municipal for the transfer and two days later 'El Cholo' was on a flight to destiny.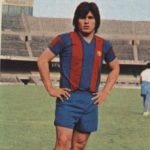 Upon touchdown in Catalonia he was surprised to find some two hundred reporters waiting for him at the airport. He was dumbfounded that they should be so interested in him, and even wanted a statement. Hours later, in the Camp Nou and undergoing routine medical examinations, he was amused to hear the doctors declare he had "the physique of Kubala". "They thought all Peruvians were weak. They didn't expect to be dealing with a tough Cholo like me", he told a Spanish reporter years later.
'Cholo' Sotil was quickly impressed by the technical skill of the one-man orchestra, with whom he would soon form a sensational partnership
Initially he found it difficult to adapt to his new European surroundings, and to understand Michels' tactical demands ("when we're on the attack you're our number 10, but when we're defending you're our number 11). But that all changed when Dutchman Johan Cruyff joined Barca.
Sotil had met him before, at a friendly game between Peru and Holland the previous year, but Cruyff had not struck him as the soccer ace that everyone made him out to be. But in Spain he was quickly impressed by the technical skill of the one-man orchestra, with whom he would soon form a sensational partnership. "The guy was like an SUV: he was down one second, and moments later he was in the other area. He was very quick. The media liked to say that he was the top dog, but he acted like one more member of the team. He didn't score that much, but he commanded the team. He was our manager on the field" (El País, 2015).
A friendship between the two developed spontaneously, among other reasons because they were the only two foreigners on the team, despite hailing from very different origins and cultures. This, and their shared curiosity for Spanish politics and society, made them kindred spirits.
The situation in the country remained a little strained - Spain was still living under the hardships of the Franco regime -, but the Peruvian and the Dutchman managed to get away from the squad and into the streets, especially on Sundays after the games, either to buy floral print shirts and bell bottom trousers, or to frequent the nightclubs. Sometimes they headed out by motorbike, sometimes in the yellow Fiat-Ferrari that Sotil bought himself with his second monthly paycheck, and that would be the cause of so much trouble down the line.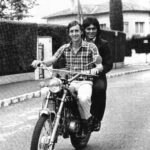 "We had a great time that season. We lived it like it was an adventure because of the uncertainty caused by the military government", said Cruyff. "Hugo and I got on very well. There was a lot of mutual respect. Which is why he named his son after me" (El Comercio, 2013).
The high point of the season was unquestionably victory over Real Madrid
Playing alongside Cruyff, but also Rexach, Arseni, Marcial and Juan Carlos, Sotil had an outstanding 73/74 season. As well as helping Barca to their first league title in fourteen years, he was also the third top scorer on the team with fifteen goals. The high point of the season - and for the creative duo that he formed with Cruyff - was unquestionably the 5-0 victory over Real Madrid on February 17, 1974, at the Santiago Bernabéu stadium.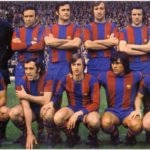 That evening Sotil fizzled through the center and down the left wing with the swagger of a veteran, stunning fans as he burst past defenders and pirouetted around the opposition, as well as threading incisive through balls for team mates to score. It was his header that brought up the fifth goal in the historic victory that is remembered to this day.
"I never thought the game would have such an impact. When we got back to Barcelona there were people weeping at the airport. The only bad thing was Cruyff not letting me celebrate my goal. He grabbed me round the neck and shouted; we're in Madrid. You want them to kill us all?" (El País, 2015).
As Catalans remember proudly, the team won the championship with five games still to play, sealing it with an away win (4-2) over Sporting Gijon. That day, a euphoric Sotil, trophy in hand, yelled a Peruvian expression that fans with good recall still repeat today: "Mamita, campeonamos!"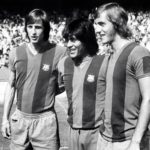 It's hard to be sure what happened to Sotil after that first stunning year. How did he lose his place in the team when he had been such a fixture? The official version, substantiated by Cruyff, is that he was a victim of the restriction on the number of foreign players that teams were allowed. Having signed Dutch player Johan Neeskens for the following season, the club's top brass convinced Hugo to get Spanish nationality and thus be eligible to play.
He agreed, but the process would turn out to be unbearably slow, and he was kept out of the first team by bureaucratic red tape. They sent him to exhibition matches in Belgium and Holland to keep him in shape, but he wasn't the same. In the end, Neeskens - who was also Cruyff's brother in law - kept his spot in the side.
The lack of discipline ended Sotil's career
The other explanation, perhaps one that has more truth behind it, suggests that a lack of discipline ended Sotil's career. They say he lost it, dizzy with fame, and squandered his money on women, alcohol and luxuries, such as the yellow Ferrari that is part of his legend and a fixture in stories about him.
El 'Cholo' claims that a fan of his - so rich that he was gifted an expensive bottle of champagne whenever they saw each other on weekends - travelled to Italy to buy exactly the same car, and that it was that car, not Sotil's, that Barca directors saw parked outside of the discos night after night. "I'm no saint, but explain to me how I'm supposed to go out on a Saturday night and then give my best for 90 minutes the following Sunday?" raged Sotil when asked by reporters about his supposed antics.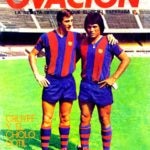 Over the years evidence of his excesses and decline would unfortunately indicate that the latter theory may be the more accurate. But regardless of his personal fortunes, of how well or badly he handled things, the Peruvian remains a near sacred figure in Catalonia. With Barcelona now populated by a fresh generation of stars, celebrating the double triumph of winning La Liga BBVA and the Copa del Rey, and with Cruyff now an eternal presence at the club, perhaps it is proper to remember those other men who formed part of a lineage that still exists today.
El Cholo Sotil, the old venomous forward, is one of those men. Cheers to that. And that's final.