All in the family: Fort Worth's McCart & Sycamore achieves top performing branch distinction
Ask Fort Worth's McCart & Sycamore Branch Retail Executive Jarod Mathis the reason behind the success he and his team have had at their branch and chances are good he'll say family.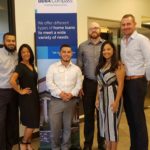 Mathis and his team were recently honored as the top performing branch in the second quarter, a first-time distinction for the team. In speaking with Mathis, there's a refrain he comes back to time and again when speaking about the branch's success, and even the unique qualities of his team members - family, service and accountability.
"What separates us is the sense of unity we have - we're a family," he said."We have great pride in what we do and hold each other accountable. Every day, we come in and our mindset is about making a difference in our customer's lives."
Mathis says that desire to be the difference for customers is not only what has helped make his branch successful, but also what separates BBVA Compass from other banks.
Mathis: It's about taking the time to get to know our customers and understand their needs before we make recommendations on financial solutions...
"We're a global institution, but we still have a local personalized feel," he said. "It's about taking the time to get to know our customers and understand their needs before we make recommendations on financial solutions that can move them along the right path financially."
It's that kind of intentional rapport building that keeps customers coming back to McCart & Sycamore. "Every time a customer opens an account with us, we say you are now part of our family, even introducing them to the team and helping them understand specifically what each team member will provide them."
Mathis says the bank's digital capabilities work in tandem with the family-oriented and personalized service they strive to provide customers day in and day out, with branch personnel focusing on showing customers how to use the bank's mobile app so that they have access to the bank 24 hours a day, seven days a week. "People that have a mindset that digital takes away from the branch - I don't agree with that. It's about becoming more efficient for our customers and providing them with better access and more benefits."
Still, Mathis emphasizes that digital doesn't have the ability to build a customer profile on a first-name basis like his team members can, which he says is important to helping customers accomplish their goals and the branch its.
"I have high expectations for my team and I want each of them to win so I work with them individually and build them up," he said. "My focus is on behaviors - like being self-reflective and honest about your individual performance - and not necessarily numbers. We believe that if you follow the behaviors, success follows."
Mathis' team reflects BBVA core values, which are: Customer comes first, We think big and We are one team, with particular emphasis on the latter even outside the branch's walls. Evidence of this can be found in how the team comes together to be active in its community, regularly volunteering at various events, and even participating in a cancer walk together in support of a team member.
Mathis: It's not just about banking, it's about making a positive difference in people's everyday lives.
"It's not just about banking, it's about making a positive difference in people's everyday lives," he said. "When they walk out our door, they should feel enriched. When we go out into the community, we should enrich people's lives. We truly are a family, here for each other and our customers."
---
In the words of Branch Retail Executive Jarod Mathis, meet the Fort Worth McCart & Sycamore team:
Client Experience Manager Stephanie Henderson: Stephanie exudes leadership and determination. She arrives early, stays late and is truly a team player who mentors others and shows how things should be done by setting an example.
Financial Services Advisor Don Stevenson: Don is highly motivated and determined to keep advancing his skill set. His goal is to make a difference, both on the team and with his customers.
FSA Arthur Campbell: Arthur lights up a room with his positive attitude and ready smile. While he is a fairly new member of the team, he has already shown a proclivity toward helping customers onsite via workplace solutions.
Sales & Service Advisor Yesica Perales: Yesica is such a hard worker, and always willing to step in and help her teammates. She is driven and motivated, and wants to garner knowledge on how she can best help her customers.
Branch Associate Victoria Puente: Victoria's clients find her an absolutely delight. She always goes above and beyond for her customers, with a smile on her face. People want to come to the branch, just to see her.
Branch Associate Jordan Day: Jordan is another relatively new member of the team. The customer base of the branch has been incredibly receptive to Jordan, and really taken a liking to him. He's great at letting our clients know what solutions we have that can most benefit them, and he's motivated to strive toward the next step in his career.