Five bright moments from BBVA Compass Stadium's five year anniversary game
BBVA Compass Stadium has seen hundreds of thousands of moments – unique moments that have made the stadium a special place for soccer aficionados and concert enthusiasts alike.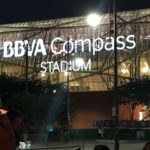 It has been five years since the stadium opened on May 12, 2012, creating bountiful opportunities for the Houston Dynamo, Houston Dash and the city's East End neighborhood to build their bright futures. On May 12, 2017, BBVA Compass and the Dynamo celebrated the five year anniversary of the stadium, capping the festivities with a 2-1 victory over visiting Vancouver, echoing the soccer team's victory on opening night five years ago
As the bank, the venue and the two soccer teams that call the stadium home turn to the next five years, here are top five moments from Friday night:
1. Alberth Elis scores in the 15th minute, giving the Dynamo a 1-0 lead.
Elis found himself at the right place at the right time, heading in the ball after Romell Quioto collected a loose ball and whipped a cross in front of the goal.
2. Erick Torres capitalizes on a penalty.
After Mauro Manotas found himself on the wrong end of a knock-down in the penalty area, Torres calmly sent in the second goal of the game, giving the Dynamo a 2-0 edge in the 68th minute.
3. BBVA Compass Houston CEO Mark Montgomery fires "El Capitán".
Montgomery walked out onto the field during the pre-game ceremonies, lighting the Texas Revolutionary War-era cannon that belongs to the winner of the annual Texas Derby series between the Dynamo and FC Dallas. Said Montgomery: "I can't say I've ever fired a cannon before!"
4. Brad Davis reenacts stadium's first ever goal.
Dynamo legend Davis was on hand after the game to reenact the first goal the stadium had ever seen. On May 12, 2012, Davis scored from 35 yards out, punching in the inaugural game's only goal. Watch the video below to see the legendary kick.
5. BBVA Compass recognized for community, stadium and team support at halftime.
BBVA Compass Corporate Banking Manager Jason Consoli, Houston CEO Mark Montgomery, Director of Strategic Partnerships and Branded Content Sheiludis Moyett and Chairman Manolo Sanchez took to the field at halftime to received recognition plaques from Houston Dynamo President Chris Canetti for the bank's commitment to the stadium and the team, as well as the surrounding East End neighborhood.
"Putting our name on the stadium was just the beginning of our commitment to creating opportunities for a bright future for the area," Montgomery said. "We wanted to give back to this community, and brighten it up with renovated homes and educational youth programs that place an emphasis on financial literacy."