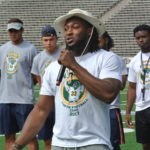 Then, in the fifth round of the pro football draft, Jones, a star running back at UTEP who developed his skills in the El Paso desert, learned that his new gridiron destination would be Green Bay, Wisconsin.
Even with the whirlwind that comes alongside becoming a professional football player, Jones remembers his El Paso roots, putting on the 2017 Aaron Jones El Paso Youth Football Camp presented by BBVA Compass this past weekend, where he shared his love of the game with local children.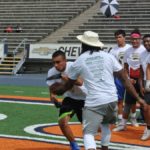 "I can't thank BBVA Compass enough for their support this weekend," said Jones. "Like me, they are deeply committed to the communities and children of El Paso. I had help along the way in life and football, so I'm thankful to be able to work with BBVA Compass to do the same for these kids."
The free camp for all children in a certain age range was spread out over two days at the Sun Bowl, with children from 5 years old through 8th grade joining on July 21 for four hours of football drills and instruction. High school players joined the camp on July 22.
We're dedicated to you and your bright futures"
Jones is the first UTEP player taken in the pro football draft since 2008. He is known as a long run producer, earning runs of at least 20 yards in 22 of the 35 games he played at UTEP.
"You're probably wondering why a bank would be involved in this, and that's because we're committed to creating opportunities for bright futures for our communities," said BBVA Compass Business Banking Officer Sylvia Andrade, when addressing campers. "We're dedicated to you and your bright futures as well! One of our bright principles is "Dare to be you". You all are doing that by being out here, so in a way, you're living examples of the BBVA Compass mission."