Emilio Ybarra, the former co-chairman of BBVA, has died. He was 82.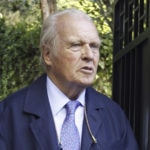 Ybarra was born in San Sebastián, Spain, in 1936. A Spanish lawyer and economist, he was chairman of Banco Bilbao Vizcaya (BBV) between 1990 and 1998. He also co-chaired BBVA and the BBVA Foundation following the merger of BBV and Argentaria, until the end of 2001. His contribution was decisive in the history of the BBVA Group and crucial to the bank's successful international expansion in Latin America.
"I would like to express the entire BBVA Group's appreciation for Emilio Ybarra's extraordinary work, and send our deepest condolences to his family. May he rest in peace," said Carlos Torres Vila, BBVA Group executive chairman.