Former FBI Most Wanted Kevin Mitnick reveals the mind of a hacker in Los Angeles at BBVA Compass client event
BBVA Compass hosted clients at the Millennium Biltmore hotel in Los Angeles last week for an invitation-only forum featuring Kevin Mitnick, the world's most famous hacker.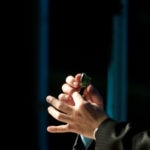 Using computer demonstrations, Mitnick discussed how businesses need to adapt in the face of rapidly changing technology in order to compete and improve cybersecurity and privacy. The event was part of the BBVA Compass Bright Perspectives series, which advances the bank's efforts to bring leading minds and fresh insights to clients on topics such as business, economics and technology, and previously featured former President George W. Bush and Apple co-founder Steve Wozniak.
"Kevin Mitnick has one of the brightest minds in his field and is keen on sharing his deep knowledge with those who need it most," said BBVA Compass Chief Marketing and Digital Sales Officer Jennifer Dominiquini. "It's a necessity for entrepreneurs today to take part in the growing digital wave and stay safe at the same time. Clients have been able to see first-hand how easy it is to get information on the internet with Kevin's live hacking demonstrations."
It's a necessity for entrepreneurs today to take part in the growing digital wave and stay safe at the same time
In one demonstration, Mitnick used a volunteer from the audience and showed how easy it is to steal a person's identity by using readily accessible information to reveal the person's Social Security number, date of birth and driver's license number.  Then, using the volunteer's social media pages for more information, Mitnick said he could easily go to a credit reporting site, and get access to credit reports, credit card numbers and other information.
Once one of the FBI's Most Wanted because he hacked into 40 major corporations just for the challenge, Kevin is now a trusted security consultant to the Fortune 500 and governments worldwide. Kevin and his team currently maintain a 100 percent successful track record of being able to penetrate the security of any system they are paid to hack into using a combination of technical exploits and social engineering.
The bank's Bright Perspectives series has most recently included Wikipedia co-founder Jimmy Wales, who spoke to bank clients in Houston and Birmingham, Ala., at the beginning of the month, and discussed Wikipedia's business operations and growing trends in the digital world.