Four out of ten young people in Spain are out of work due to a dearth of opportunities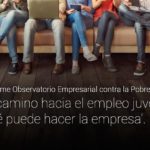 The report discusses the need for companies to tackle the problem of youth employability, and to launch specific programs as an integral part of their business and community involvement strategies. This would be mutually beneficial. On the one hand, companies ensure greater competitiveness going forward, while young people benefit from fulfilling employment, helping to drive progress toward the United Nations Sustainable Development Goal of promoting dignified employment.
Youth employment in Spain
The report points to worrying figures, illustrating very clearly a situation that is becoming increasingly unsustainable. In Spain, four out of five individuals between 20 and 24 years of age want to work but cannot due to a lack of opportunities. The number of so-called "ninis", young people aged between 16 and 29 who neither study nor work, and are not seeking employment, stands at 400,000. A look at the personal circumstances of these young people demonstrates the scale of the problem, with 58% of those unemployed at risk of social exclusion.
The road to youth employment. What can businesses do, identified a negative attitude among school leavers, which makes them reticent to pursue further studies. The fact that graduates often fare just as poorly on the labor market, and face obstacles linked to a lack of experience, or because the training they have received is inadequate for employers' needs, further exacerbates this negative attitude and renders the situation even more problematic.
Measures to combat unemployment
The problems are understood. It is now time to find solutions. The report proposes a series of measures to help combat youth unemployment, aimed at companies, social organizations and government bodies. These include: protocols to prevent students from dropping out of school, training policies for employees lacking adequate training, consultancy and grant programs, internship contracts and support for youth entrepreneurship, all of which will help to make the transition to the labor market far smoother, particularly for those young people facing social exclusion.
The Observatorio Empresarial contra la Pobreza, run by the CODESPA Foundation, is a platform comprised of leading companies and organizations that have joined forces to help eradicate poverty worldwide. The organization is supported by Telefónica, BBVA, CaixaBank and Sener. Other partners include The Boston Consulting Group and IESE Business School.